We Are Open For Business
Save Tips on AC for Your Ann Arbor Home!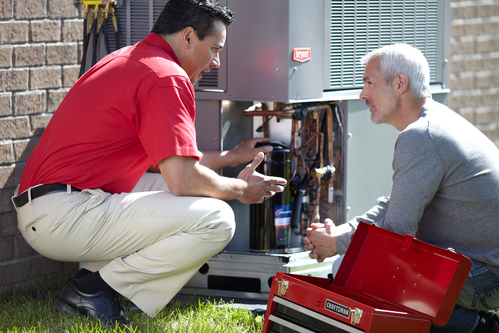 4 Helpful Hints on AC in Ann Arbor for Saving Money
People often ask us about ways to save money on their bill for AC in Ann Arbor. They ask questions like: "Do I have to replace my entire system to save money?" "Are there ways to make my AC more efficient?" and "What is the best system to use if I want to save money on my bill for AC in Ann Arbor?" We understand that a lot of you are looking for inexpensive, convenient ways to save money, and that it's sometimes hard to find answers without being told you'll have to invest in an entirely new system.
Would it be helpful to have a better understanding of what methods are available to increase the efficiency of your current system? Of what you need to do around your house, and what it's likely to cost? Or, if it turns out that you really do need a new system, what it might cost? Wouldn't it be great if there were experts available to provide guidance for people like you who are looking for ways to save money on your energy bill?
Check your AC Ductwork!
One of the most important ways to improve the efficiency of your AC is to carefully check all your ductwork for cracks, blocks, and leaks. The "conditioned" air your HVAC system produces can escape through cracks in the ducts and either depressurize your home, or cool areas that do not need to be cooled. Less efficiency means more running time, adding to your electric bill and making your home less comfortable.
Generally, the older your home is, the more likely it is that your ductwork will have leaks. By the way, leaks in the air returns also reduce the effectiveness of your system by raising the temperature of the "supply" air. Your condenser and fan both have to work harder and … you guessed it, your electric bill goes up! Checking your duct system for cracks, blocks and leaks is a fairly simple process, and the repairs are usually very inexpensive.
Get a Programmable Thermostat for the AC in Your Ann Arbor Home
Almost every AC system would benefit from the installation of a programmable thermostat. These thermostats help to regulate temperature, prevent excessive heating or cooling and usually reduce the amount of energy your AC system uses. We recommend setting your thermostat no lower than 76 degrees Fahrenheit in the summer, and no higher than 70 degrees Fahrenheit in the winter. The greater the difference between the outside temperature and the target temperature for your AC system, the more energy you'll used getting there.
Reach Maximum Efficiency for your AC in Ann Arbor
When your AC in Ann Arbor is running, you want to have an uninterrupted flow of conditioned air into all the rooms that matter, with the return air able to reach the return ducts. All the rooms that make up part of the AC circuit should allow a free flow of air between them. If you want to close off rooms that don't need AC, make sure they aren't important to the cycle of conditioned and return air, and not only close the doors, but close off the duct openings as well. It's usually best to consult with a professional to make sure you aren't accidentally impeding the function of your AC system.
AC in Ann Arbor – Consider a Heat Pump or Geothermal System
The most efficient systems we can offer for AC in Ann Arbor homes and South Eastern Michigan are those that use heat pumps and/orgeothermal energy. You may know that heat pumps basically utilize the ambient heat or coolness in the air to decrease how hard your heating and cooling system have to work. Geothermal systems use the inherent temperature in the ground or underwater to do the same thing. By capturing energy that already exists, they reduce the load on your AC in Ann Arbor. While these systems are a bit more costly up front, some of our clients find that they end up saving a great deal on their AC bills.
If you'd like a free in-home evaluation of your existing AC in Ann Arbor , or any other professional advice about heating and cooling your home or business, please feel free to contact us at info@cmrmechanical.com or call (734) 424-9555. We're happy to help!