We Are Open For Business
SpacePak Mini Duct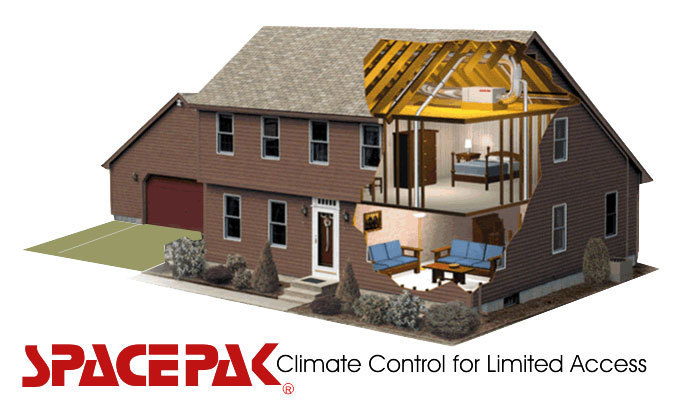 What are SpacePak and Unico Systems?
SpacePak and Unico systems are special types of small-duct or mini-duct central heating and air-conditioning systems for your home or business. They work especially well for structures that are difficult to heat or cool. For example, you might use one of these systems for homes with limited space for HVAC appliances, or those that are heated with radiant heat, steam, or hot water. Both SpacePak and Unico systems use low volume, high velocity transfer of heated or cooled air, and both are very efficient climate control systems compared to conventional heating and A/C systems. Because these systems use small or mini ducts rather than the large ducts used in older, conventional systems, they can be installed in a creative way in a much wider variety of homes and businesses.
Which System Should I Have Installed?
To determine the size of the SpacePak or Unico System you need, an installer will have to measure a number of factors, including the size of your home, the number of windows, the insulation, and the exposure to sun and shade. Our technicians and perform a room by room load calculation to determine the number of Tons required to cool your home and the number of BTU's required to heat it.
Do These Systems Work with Heat Pumps?
Yes! According to one manufacturer: "all SpacePak DX fan coils are manufactured so that they can operate hand-in-hand with a Heat Pump outdoor unit."
SpacePak also points out that, like other small or mini-duct high-velocity heating and air-conditioning systems: "SpacePak DX Air Handlers are all Heat Pump compatible. We have both Hot Water heating coils and Electric heating coils for use with our system. In fact, using your SpacePak system with a hot water coil works really well as a supplemental heating system when the house is primarily heated with a radiant system. A Factory Trained SpacePak Installer can help you determine the best heating option for your area." SpacePak also works with geothermal and many other types of systems.
How Much Do These Systems cost?
The best way to determine the cost of a SpacePak or Unico high-velocity system is to have one of our trained installers visit your home or business. A critical part of preparing an estimate is understanding exactly what labor will be involved in your installation, and this labor can vary tremendously depending on whether we are installing in new construction or retrofitting an older home, whether you already have a radiant heating system, heat pump, or geothermal system, and what type of heating and A/C system makes the most sense for your structure. The good news is that small duct or mini-duct central air and heating systems can be surprisingly efficient to install.
What are the warranties?
The standard warranty is 12 months from the date of installation, on parts, although Unico will extend the warranty to five years when their systems are installed by factory trained technicians and registered with the company.
Can I get a quote on a SpacePak or Unico system from CMR Mechanical?
Absolutely. Call us today at (734) 424-9555 to arrange an appointment for one of our representatives to visit your home or business.