We Are Open For Business
Mitsubishi Mini Split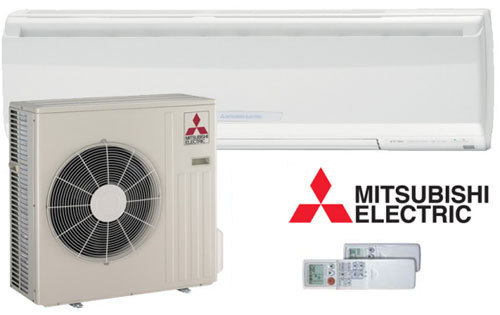 What is the Mitsubishi Mini-Split?
The Mini-Split systems from Mitsubishi are a unique kind of heating and cooling system for your home. They can provide both A/C and heated air on demand. The typical ductless mini-split is made up of three components – an outdoor unit, an indoor evaporator unit, and a wireless remote control. Because of the separation between the indoor and outdoor units, all you see inside the house is the indoor unit, which is easy to set or turn on or off with the remote control.
How Does the Mini-Split Ductless System Work?
The outdoor unit of the Mitsubishi Mini-Split is a condenser or compressor. The indoor unit – the evaporator unit - contains the refrigerant coil and a blower fan. They are connected by small tubes that run through an exterior wall. The small size of these tubes make installation simple – only a 3 – 4 inch hole in the wall is required. Refrigerant is pumped through the tubes into the evaporator unit. The compressor does its work outside your home so that the compact indoor unit can provide the appropriate air temperature inside.
Can I Use the Mini-Split in Any Home?
There are a few points to take into account when you're considering installing a ductless heating and cooling system. The first is that, because the system is "ductless," you can install it in places where installing the ducts found in a typical home HVAC system would be difficult or impossible. This makes sense in many of the older homes in and around Ann Arbor where there are historical considerations that make major construction difficult.
The second point is that mini-split and other ductless systems (like the Diaken Ductless System) don't introduce outside air. This means that in occupied rooms, a secondary method for introducing fresh air – such as an operable window - may be required. One last point is that the heating component – driven by what is known as an air-source heat pump – may not be sufficient to properly heat your rooms in the coldest months. For that reason, in cold climates, you may want to consider installing the Mitsubishi Mini-Split as a back up heating system.
Are Ductless Heating and Cooling Systems Considering "Green"?
Yes! Ductless mini-split systems can save heating and cooling costs, as well as building costs, in a variety of ways. First of all, because they have no ducts, they minimize the loss of heated or cooled air that you typically experience with ducted systems. This also means that there are fewer installation materials for a ductless system (no ducts, less retrofitting, less complicated building process).
As for the system itself, it's helpful to know that several indoor units can be run off one outdoor compressor. What this means is that each room can be individually temperature controlled, unlike central air systems. An energy smart occupant can turn off the mini-split in rooms that aren't being used, and only heat or cool the room they are actually in.
Does CMR Install Ductless Mini-Split Systems?
Yes. We recommend that you read reviews online, think about your needs, and then call us for a FREE in home consultation. We would be happy to sit down with you and discuss your heating and cooling needs. Because we're a family oriented local business, we really enjoy meeting people in and around Dexter, Ann Arbor, Chelsea, and Saline.
CMR Mechanical has been a Mitsubishi Elite Diamond Contractor for the last 5 years. Give us a call at (734) 424-9555 if you would like to talk more about ductless mini-split heating and cooling systems.