We Are Open For Business
Bryant System Replacement
The homeowner had an original 1975 Williamson furnace that had an input of 180,000 BTU's. To provide an example of how large the furnace was after we disassembled the existing monster of a furnace we took a picture of the heat exchanger of the old furnace next to the new furnace. The existing furnace was over 100,000 BTU's too large for the home.
The 50-55% efficient 180,000 BTU Williamson was replaced with a 96% efficient two stage Bryant furnace with a variable speed blower. The gas and electricity usage will drop dramatically and the home will feel much more comfortable! The oversize furnace was constantly cycling on and off due to oversizing. The 26-year-old 8 SEER air conditioner was replaced with a 16 SEER single stage Bryant system. The new air conditioner is twice as efficient as the old system. We're very pleased how this project turned out and our customers are very happy with a new efficient, reliable, quiet system.
If you're in the market for a new air conditioner in Ann Arbor or the surrounding areas, please contact us today! (734) 424-9555.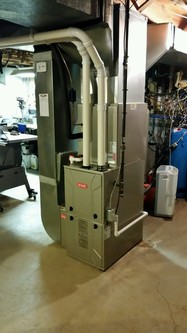 New energy efficient Bryant furnace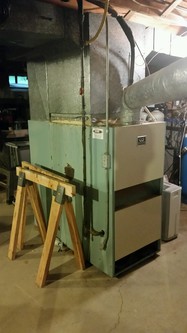 Original 1975 Williamson Furnace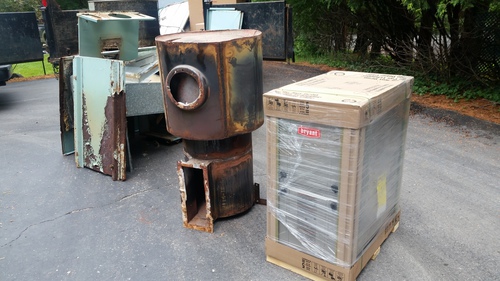 Heat exchanger from the old furnace next to the new furnace!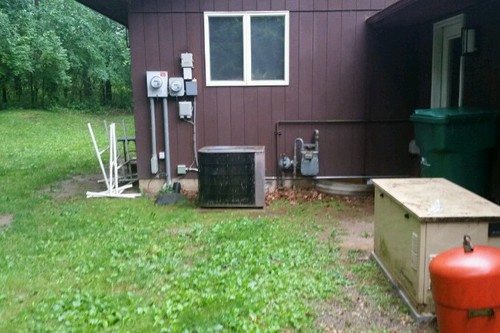 Old air conditioner unit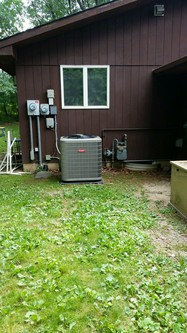 New Bryant air conditioning unit