We Are Open For Business
Generators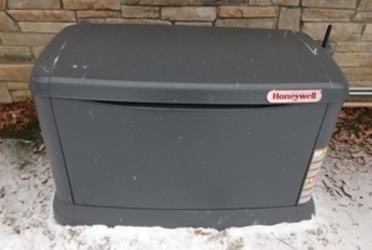 Does the power at your house go out every time it storms?
Are you tired of having nothing to do when a storm hits and you're left with no electricity?
When the power goes out, you want to be prepared. A home generator will accomplish this, giving you the piece of mind to know that you're ready for a big storm.
When the electricity goes out, it's always a guessing game to figure out when it will be restored, so don't get caught in the dark again!
Cummins Bridgeway RS20A/AC and the RS14AF home generator models will provide you with the satisfaction of knowing that your home appliances will not be damaged in the event of a power outage. These models automatically start and stop when there's a power outage, so you don't need to worry about a brown out.
Honeywell generators are also a great option for clean power to get you up and running when the electricity goes out. A Honeywell home generator in Ann Arbor will ensure your life goes on even when utility power does not.
Don't go into the summer storm season without a backup plan! Call a CMR Mechanical professional at (734) 424-9555 to explore what Ann Arbor home generator options would work best for your family's needs.
We have the experience, knowledge, and skills necessary to service and repair all brands of generators for your home or business. We're happy to install your home generator today!
"It's not just the power that's on; it's the people too. Honeywell maintains a service network and commitment to excellence guaranteed to keep your backup power solutions ready the moment they are needed. You know you will have the power to protect your family."
Jerry and Heidi Tubbs, Ann Arbor