We Are Open For Business
Bryant Furnace Ann Arbor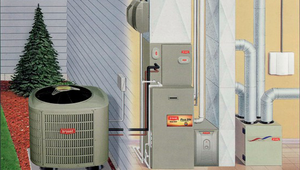 How Does Weather Affect Your Heating & Air?
Often, Michigan weather can be cold enough in the morning that you need your heat on, then hot enough by afternoon to turn the A/C on.
Michigan winters can be especially rough on your furnace. Because of the fluctuating temperatures, your furnace has to work harder to keep up. Spring and summer bring cottonwood and allergens into your home. In the fall, leaves can get trapped in your air conditioner, leaving you a mess to clean up.
Are you looking for a reliable and efficient heating and cooling system that provides the utmost comfort as well as better indoor air quality for you and your family? Look no further than a Bryant furnace! Bryant heating and cooling systems have the perfect combination of comfort features and energy efficiency for your home.
Bryant Furnaces in Ann Arbor Give You More Control Over Your Utility Bills
According to Bryant, "a hybrid heat dual fuel system combines the strengths of a gas furnace with an electric heat pump to deliver the comfort and efficiency you need in both warm and cold seasons. As outdoor winter temperatures change, the system automatically switches between heat pump and furnace to utilize the most cost-effective fuel source and maintain greater efficiency.
In addition, because a hybrid heat dual fuel system provides the flexibility to work with multiple fuel sources, it provides additional protection from unpredictable fuel cost increases. The system is so efficient, its heating costs are less than with any gas furnace alone."
Efficient and Environment Friendly Air – Bryant Furnace Ann Arbor
According to Energy.gov, "heating and cooling account for 56% of the energy use in a typical U.S. home, making it the largest energy expense for most of us." How much is your energy bill each month? Is it time to upgrade your system to an energy efficient one?
CMR Mechanical Offers Bryant Furnaces in and around Ann Arbor!
Give us a call at (734) 424-9555 to talk with the most customer-friendly providers of Bryant furnaces in Ann Arbor! You can arrange an appointment for one of our experienced technicians to visit your home or business to evaluate your heating and cooling Ann Arbor needs. We're happy to install your Bryant furnace in Ann Arbor today!