We Are Open For Business
Ductless Air Conditioner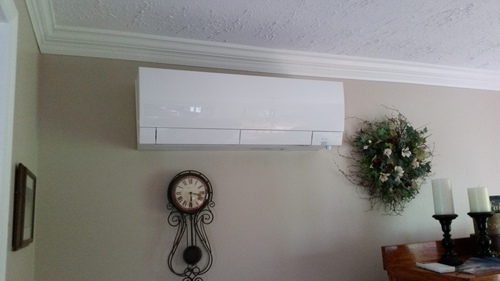 What You Don't Know About Ductless Air Conditioners
What is a Ductless Air Conditioner?
Ductless air conditioning is exactly what it sounds like – there's no ductwork involved! Typically, ductless air conditioning systems were installed in motels and one-room applications like garages or lofts, but there are a growing number of homes and offices that use ductless systems for efficiency and ease of installation.
According to Energy.gov, ductless air conditioners reduce energy losses associated with the bulky ductwork of central forced air systems. Energy losses can account for more than 30% of energy consumption for open space conditioning, especially if the ducts are in an unfinished area like an attic or crawl space.
Benefits of ductless air conditioning systems include:
Energy-Efficient Technology
Quiet Operation
Allergen Filtration
Precise Comfort Control
Environmentally Friendly
Flexible Indoor Unit Styles
Wireless Remote Control
Is a Ductless Air Conditioner Right For Me?
If space is an issue, then a ductless air conditioner may be the right choice! Ductless air conditioners can be mounted, hung, and even suspended from a ceiling. Floor-standing models are also available for your convenience. In addition, many ductless air conditioners offer a remote control to make it easier to turn the system on and off when it's out of reach.
How Much Do Ductless Air Conditioners Cost?
The best way to determine the cost of a ductless air conditioner is to have one of our trained installers visit your home or business. A critical part of preparing an estimate is understanding exactly how much labor is involved, as well as determining the cooling capacity needed to cool your home.
Does CMR Install Ductless Air Conditioners?
Yes. We recommend that you read reviews online, think about your needs, and then call us for a FREE in-home consultation. We would be happy to sit down with you and discuss your heating and cooling needs. Because we're a family oriented local business, we really enjoy meeting people in and around Dexter, Ann Arbor, Chelsea, Ypsilanti, Plymouth, Milan, Whitmore Lake, and Saline.
Give us a call at (734) 424-9555 if you would like to talk more about a ductless air conditioner.