We Are Open For Business
Home Generator in Ann Arbor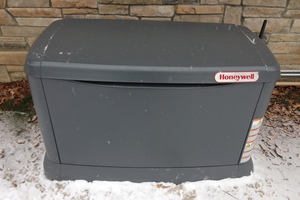 Don't you just hate it when the power goes out in the middle of a storm?
No power means no lights, no internet, no appliances, and no heat or AC. Furthermore, if you live in a rural area with well water, having no electricity means no water!
You never know when the power will come back on, so you have to remember what people did in the non-technology age to occupy your time. You can pay your energy bill each month, but your utility company can't promise that your electricity will be restored immediately.
Well, those days are over, thanks to Cummins Bridgeway RS20A/AC and the RS14AF home generator models. Often power outages can wreak havoc with electrical appliances such as your furnace or air conditioning system. However, the new home generator models automatically start and stop when there's a power outage, so you don't have to worry about a brown-out.
Those frustrating calls to your utility company are a thing of the past! You can kick up your feet and watch a movie or read a book when you planned to instead of being inconvenienced because of a power outage.
In addition, the RS20A/AC and the RS14AF home generator models feature soundless operation, instant monitoring and email notification, and they automatically manage your household cooling capacity.
Does CMR Mechanical Install Home Generators?
Yes! Give us a call at (734) 424-9555 to talk with the most customer-friendly providers of home generators in Ann Arbor! We have the experience, knowledge, and skills necessary to service and repair all brands of generators for your home or business. We're happy to install your home generator today!