We Are Open For Business
Mitsubishi Air Conditioner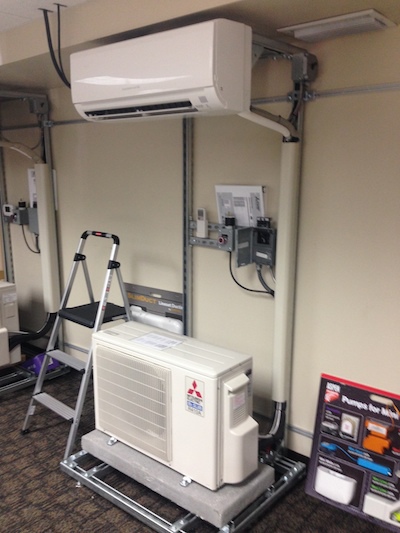 Top Rated Mitsubishi Air Conditioner
Do you have an older home without space for ductwork?
Are you tired of settling for a space heater or a window air conditioner?
Are you ready to experience comfort like never before?
If you answered "Yes!" to any of these questions, a Mitsubishi air conditioner might be what you've been looking for! Mitsubishi air conditioners are ductless mini-split high-performance heating and cooling systems. They offer a variety of comfort levels, plus advanced technology that quietly and efficiently cools or heats your home.
Older homes are common in the city of Ann Arbor and surrounding areas. According to EnergyStar.gov, mini-split system air conditioners are an option in older homes or businesses, because they don't have ductwork to accommodate a conventional ducted system. In addition, if you have rooms that are extremely hot or cold with the system you already have, a Mitsubishi air conditioner is a great option.
As for the Mitsubishi air conditioner system itself, it's helpful to know that several indoor units can be run off one outdoor compressor. What this means is that each room can be individually temperature controlled, unlike central air systems. An energy smart occupant can turn off the mini-split in rooms that aren't being used, and only heat or cool the room they are actually in.
Benefits of Mitsubishi Air Conditioner
Mitsubishi air conditioner systems are some of the best on the market today! The benefits this brand offers include:
Uses Eco-friendly technology to save on energy
Eliminates allergens and odor with dual and triple multi stage filtration
Runs quiet, enabling relaxation
Designed for exact room needs
Easy to maintain, because of variable refrigerant flow technology (VRF)
Installed in small spaces to allow more interior design
Types of Mitsubishi Air Conditioners
Mitsubishi Electric Wall Mounted
Mitsubishi Electric (medium static)
Mitsubishi Electric (low profile)
Mitsubishi Electric (high static)
Mitsubishi Electric Floor Standing
Mitsubishi Electric Ceiling-recessed Cassette (Four Way)
Mitsubishi Electric (one way)
Mitsubishi Electric ceiling-suspended
Mitsubishi Electric Vertical Ducted Air Handler
Mitsubishi Electric Hydronic heat Exchanger
How Does a Mitsubishi Air Conditioner System Work?
The outdoor unit of the Mitsubishi Air Conditioner is a condenser or compressor. The indoor unit – the evaporator unit - contains the refrigerant coil and a blower fan. They are connected by small tubes that run through an exterior wall. The small size of these tubes make installation simple – only a 3 – 4 inch hole in the wall is required. Refrigerant is pumped through the tubes into the evaporator unit. The compressor does its work outside your home so that the compact indoor unit can provide the appropriate air temperature inside.
Top Rated Mitsubishi Air Conditioner Ann Arbor
According to EnergyStar.gov, Mitsubishi Electric is America's No. 1 selling brand of ductless cooling and heating technology, having nine systems that qualify for the Energy Star Most Efficient 2013 designation, making it the leader in Most Efficient ductless products.
Does CMR Install Mitsubishi Air Conditioners?
Yes. We would be happy to sit down with you and discuss your heating and cooling Ann Arbor needs. Because we're a family oriented local business, we really enjoy meeting people in and around Dexter, Ann Arbor, Chelsea, Ypsilanti, Plymouth, Milan, Whitmore Lake, and Saline.
Give us a call at (734) 424-9555 if you would like to talk more about a Mitsubishi air conditioner.