How to Clean Your Air Conditioner Vents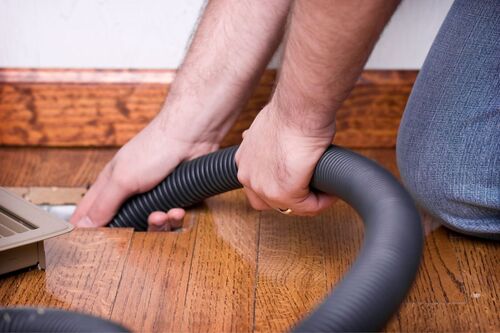 Do you suffer from spring and summer allergies?
Do you want to make sure the air in your home is as fresh and clean as possible?
One of the best ways to ensure the air in your home is clean is to clean your air vents! The ducts in your home contain millions of dust particles, pollen particles, and other allergens. Keeping your air vents clean will help keep those particles from spreading throughout your home, and will also save you money on your air conditioning bill!
To clean your air vents, here's what you'll need to do:
Turn off the power connected to the heating and air conditioning in your home.
Unscrew the air duct covers or grills from the walls. Use a brush to clean the grates thoroughly - if they're really dusty and grimy, you might need to use soap and water to get them completely clean.
Use a heavy duty, high powered vacuum and vacuum the ducts as much as possible. You can rent a vacuum for this if you don't have one at home - a standard household vacuum probably isn't powerful enough to really deep clean the crevices of the ducts. If your air vents have mold or mildew buildup on them, consider hiring a professional to do the job!
Clean the grates on your ceiling. Make sure to take precautions by wearing a dust mask - dust and debris could fall down while you're working.
Trust CMR Mechanical to Keep Your AC Running This Summer!
Spring and early summer tune-ups have a big payoff. Cleaning your AC components will help your unit run more efficiently, which will save you money all summer long. Performing regular maintenance can help you avoid expensive repairs. Schedule your appointment with our technicians today!
"CMR employees were professional, prompt, clean, conscientious, friendly and a pleasure to work with. I recommend them highly!"
- Carola G., Saline, MI
Give us a call today to discuss your heating and cooling needs or for more questions about the air conditioner in your Ann Arbor home.