Air Conditioners Vs Heat Pumps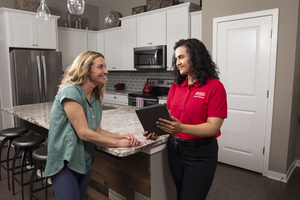 Is your air conditioner on its last legs?
Are you hoping for a cool, humidity-free summer?
Do you want to save money on your energy bill?
Now that summer is in full swing, your air conditioner is hard at work cooling your home. Staying comfortable in the heat is nice, but your energy bill might not be ideal. Upgrading your air conditioner to a heat pump can help you save a lot of energy. So, what's the difference between a heat pump and an air conditioner?
Heat pumps and air conditioners essentially work the same way in warmer months. Using a refrigerant, both regulate temperature in your home by taking the heat that's inside and moving it outside. The biggest difference is that heat pumps operate year-round and also serve as a method of heating your home in the winter. By using the machine year year-round, your energy efficiency increases, and your monthly bill goes down.
Benefits of a Heat Pump
Aside from an increase in efficiency, heat pumps offer a few other benefits compared to central air conditioning.
Easy to install: Switching to a heat pump is usually a simple process – installing ductless mini-splits in your home only requires punching a few holes in a wall.
Better air quality: Heat pumps regulate healthy moisture levels throughout the year, humidifying and dehumidifying when necessary.
Peace & Quiet: The new technologies in heat pumps allow for a much quieter and smoother experience than conventional air conditioning.
Looking To Upgrade Your Air Conditioner?
If you constantly need air conditoner repair in Ann Arbor, consider upgrading to a heat pump. To schedule an inspection of your current system, give us a call at 734-424-1560 and one of our technicians will come assist you! Our expert technicians are available 24 hours a day and are committed to high standards of safety, security, and cleanliness.
Your satisfaction is our highest priority, which is why we have a 100% satisfaction guarantee on all our services! We'd love to work with you to meet your heating and cooling needs!