Low Cost Ways to Save Energy in Commercial Facilities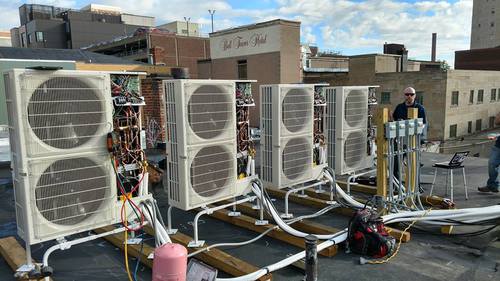 Are your energy bills high for your home or business?
Want to save money on your energy bills without spending a ton of money on upgrades?
Is it time for a full inspection of your HVAC equipment?
A full inspection can help you understand the overall condition and operational efficiency of your HVAC equipment. According to the air conditioning experts at CMR Mechanical, here are the best ways to conserve energy, including:
Repair or replace insulation
Switch to LED lighting
Invest in energy efficient appliances
Tweak energy guzzling vending machines
Conduct energy conservation training with your employees
Change your air conditioning air filters regularly
Clean your HVAC ducts
Vacuum dusty vents and registers
Avoid blocking vents and registers with furniture, rugs, and drapes
Clean your air conditioning coils
Maintain & Improve Your HVAC System
If your HVAC system accounts for 50 percent of your building's energy costs, making upgrades and boosting maintenance are the top two ways to save energy.
Upgrades: If you can't afford to replace your old system, you can limit your energy use by making a smaller investment in HVAC upgrades. These improvements could include smart thermostat installation and programmable controls that will shut off lighting when your building is unoccupied. You may also consider retrofitting your system with energy saving elements like a compressor, air-side economizers, demand-controlled ventilation, and condenser fan controls.
Maintenance: When you're looking to save energy, there is no substitution for preventative maintenance. Your service technician can change air filters, clean coils, and check refrigerant levels. Even if one part of your system is slightly off, energy usage and your utility bills can rise.
Why Air Conditioners Should Be Inspected!
Inspections ensure that your air conditioner will run at peak performance. We're positive that you hate high energy bills … most people do! Research shows that regular inspections help reduce your monthly energy bill by up to 15 percent. So, why not do something to help lower your costs each month?
Plan Ahead for Replacing Your Air Conditioning
The absolute worst time for you to replace your air conditioner is in the middle of summer when we get the most calls for air conditioner breakdowns. You don't want your house or business to be uncomfortable for the day it takes to do the replacement! That's why you should plan ahead and replace your old inefficient air conditioner as soon as possible. Our expert air conditioner installers based in Ann Arbor are ready to install your new system anywhere in the Ann Arbor, Dexter or Chelsea area.
Call CMR Mechanical for Air Conditioning in Ann Arbor
Call us today at 734-424-9555 to schedule an appointment. We'll measure and survey your needs for air conditioning in your Ann Arbor home or business