HVAC Maintenance Tips for Pet Owners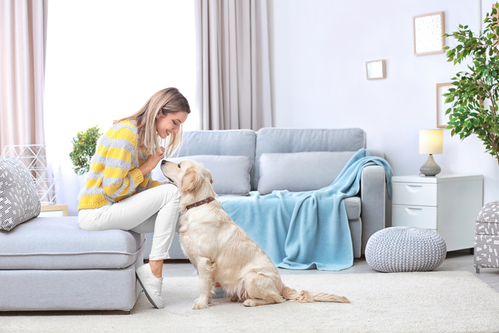 Do you have dogs or cats at home?
Our pets are our best friends – they love us unconditionally, and we love them too! To make their lives better, we make sure they're as comfortable in our homes as we are.
Have you ever thought about how owning a pet can impact your home's HVAC?
You might have never thought about the two together, but it's true! When we have pets, we need to be mindful of ways to keep our home's HVAC systems running efficiently. Our pets shed regularly, which means hair and dander can get into our heating and air conditioning filters.
Here's our tips to keep your HVAC unit clean and efficient so you can keep your home cool and comfortable:
Groom your pets regularly – Keeping your pets groomed can reduce the amount of shedding. It's not only great news for your air filters, but good in general for your home. Imagine less time spent vacuuming and digging out that lint roller! Also, you get to spend some more quality time with your furry critter!
Change your AC filters often – In addition to dog and cat hair, pet dander can also be a problem for your air filters. Over time, AC filters get clogged with dust, pet hair, and pet dander. This can block airflow, meaning your AC will work twice as hard to try to cool your home potentially increasing your power bill! To save money in the long run, consider higher-quality air filters. HEPA filters, or "High Efficiency Particle Air," are the best type for catching pet dander particles.
Clean the air vents – When you're vacuuming and dusting your home, don't forget to use the hose and clean your air vents to prevent clogging. Read more about cleaning the vents and ducts in your home here!
Clean the air ducts – Clogged air ducts can be a breeding ground for viruses and bacteria. We recommend having a professional perform a duct cleaning service to save you the trouble. If you decide to clean the ducts yourself, remember to turn off the AC first to prevent hazards like breathing in dirty air.
Get an air purifier – An air purifier can ease some of the burden placed on your air filters. A HEPA purifier will make sure 99.97% of pet danger in your home is removed from the air before it even reaches your air filters! Purifiers can also reduce airborne allergens, making the air in your home healthier for your family and your pets!
Call an HVAC professional for regular maintenance - Save money and time by scheduling a comprehensive AC tune-up today with an air conditioner expert in Ann Arbor. Still need more convincing? Give us a call today to discuss your heating and cooling needs or for more questions about your heating and cooling in Ann Arbor.
Our Experts on Heating and Cooling in Ann Arbor Work for You!
Creating a comfortable and healthy home for your family is our top priority. It can be a challenge to find highly trained specialists with moral and ethical values but, at CMR Mechanical, we protect your home before, during, and after installation! Heating and cooling Ann Arbor homes is what we do best, and we're here to make YOU happy!
Do you want to keep your air conditioner and furnace running as efficiently as possible? Do you want to lower your electric bills? Want to improve the air quality in your home?
If you answered, "Yes" to any of the above questions, contact us today! You can arrange an appointment for one of our experienced technicians to visit your home to evaluate your heating, cooling and air purification needs. We're happy to install your new HVAC system today!