Do You Need a New Furnace In Ann Arbor?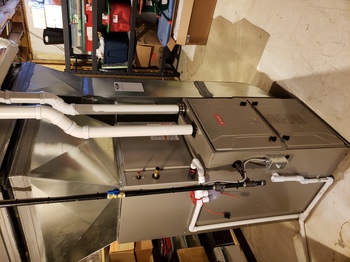 Is your furnace blowing only cold air?
Have you tried troubleshooting your furnace but nothing works?
Are you tired of shelling out for expensive repairs?
If your furnace isn't keeping you comfortable, if troubleshooting steps aren't getting it going again, if you're done trying to repair it only for it to break again – it's time to let CMR Mechanical install a new furnace in your Ann Arbor area home.
High Quality New Furnace Ann Arbor – Only the Best Brands!
Carrier, Bryant, Honeywell, Mitsubishi - at CMR we work with only the best brands and high-rated units. Getting a new furnace in your home is easy – but you're going to need to find out what unit will best fit your budget and your home's heating and cooling needs. Not all furnaces and heating units are made the same so you should consider your options:
Natural Gas, Propane, or Electric Furnaces
It's important to know what fuel is available to you and how that impacts your budget. You're also going to want to keep in mind any furnace's efficiency rating. The higher the rating, the better the unit is at keeping your home comfortable and save energy costs, but that can also mean a larger initial price tag so weigh your options carefully.
Is a Mitsubishi Mini Split Right for Your Home?
If you're looking to only heat certain parts of your home during specific times of the day, a top-of-the-line Mitsubishi Mini Split ductless electric heating unit may be the right choice. These units are great for heating only the rooms you're using and offer great temperature control.
Get a New Furnace in Your Ann Arbor Area Home and Stay Comfortable
At CMR mechanical we serve the greater Ann Arbor, Dexter, and Chelsea area. If you're tired of expensive repairs and want a new furnace for your Ann Arbor home, one of our technicians will come to your home and help you choose the best unit for your heating and cooling needs that fits your budget. Give us a call at 734-424-1560 today!