Why Your Air Conditioner is Taking so Long to Cool Your Home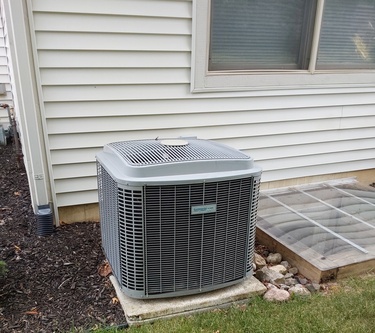 Is your air conditioner blowing hot air?
Or maybe your is AC taking longer than usual to cool your home, leaving you hot and frustrated!
No one wants to get caught in a heatwave without functioning AC. Ensuring that your air conditioner is regularly maintained and working correctly will help stop those hot and sleepless nights.
Malfunctioning AC Ruins the Chance of a Great Summer
As summer's scorching heat approaches, a functional air conditioning system can be a lifeline for you. A malfunctioning unit can turn your home into an unbearable oven.
An improperly functioning AC system leads to soaring indoor temperatures, subjecting you and your family to extreme heat. The harsh air stifles productivity, disturbs sleep, and affects overall well-being, creating an uncomfortable living environment. Cooking, cleaning, working, and even relaxing become a chore in a hot home.
Not only will you and your family be uncomfortable, but the health of your home can also be at risk. Excessive heat and humidity can warp wooden furniture, damage electronics, and cause your paint to peel. Prolonged exposure to high temperatures can also impact your insulation and compromise the integrity of walls, ceilings, and other structural elements. These issues not only reduce the quality of life but also potentially reduce your home's market value.
Benefits of a New AC Unit: More Than Cool Air
"CMR has recently installed a new furnace and air conditioner in our home and the process was great from beginning to end. I initially called because of a high energy bill and they educated me as to what was causing my bill to be so high as well as recommended an energy-efficient furnace and a new air conditioner. The installers were professional, educated me throughout the process, and made sure I was able to pick where the air conditioner would be located outside of my home. They walked me through what they had done every day and were very respectful of my home and installed it very quickly. I would recommend them for all HVAC services."
- William Sparrow, Google Review
Regular Maintenance and Cleaning Promote a Healthy Air Conditioner
Over time, the condenser coils of your air conditioner accumulate dirt, dust, and debris. This buildup restricts airflow and forces the system to work harder to cool your home. You can improve efficiency and reduce the time it takes to cool your home by properly maintaining your air conditioner.
In addition to cleaning, check your refrigerant levels for optimal cooling. Low refrigerant can significantly impact the cooling capacity of your AC system, leading to poor cooling and prolonged cooling times. If you suspect a refrigerant leak or low levels, it's important to contact a professional technician who can address the issue.
Proper airflow is also essential for effective cooling. Obstructions or blockages in your ductwork can impede airflow and reduce the efficiency of your AC system. Having your ductwork inspected and repaired, if necessary, will keep cool air circulating through your home and reduce the time it takes to achieve the desired temperature.
By investing in regular maintenance and addressing any issues promptly, you're making sure your air conditioner operates at its best. Remember to contact the professionals at CMR who can provide expert guidance and assistance in maintaining your air conditioner in Ann Arbor.
Free In-Home Evaluation
We can give you a comprehensive inspection of your system, including its components, ductwork, and overall functionality. Based on our findings, we'll provide recommendations for optimizing your AC unit's performance, or let you know if the situation calls for a replacement unit.
Our inspection process includes:
1. Visual Inspection: Checking for any signs of damage, wear, or corrosion.
2. Airflow Analysis: We evaluate airflow throughout your home to determine if the issue lies with the unit, or ductwork, or if there is a breach point where cold air is escaping.
3. System Performance Testing: Our technician measures the system's refrigerant levels to ensure they're adequately cooling your home.
4. Electrical Assessment: This is when the wiring, connections, and relays are checked for adequate connection and safe performance.
5. Assessment: The findings are summarized after the inspection to provide a clear understanding of the situation and the best solution for you.
Understanding the problem is the first step toward a solution.
Why Your Air Conditioner in Ann Arbor May Not Work for You
Many homeowners experience air conditioning issues in the summer.
If you have a smaller unit, it may not be able to handle the size of your home. It won't be able to handle the cooling load, especially during hot summer days. An undersized unit also runs non-stop for extended periods to reach your desired temperature, leading to increased energy consumption and higher utility bills. The constant strain on the unit can shorten its lifespan.
CMR Mechanical Offers Bryant Air Conditioners
Bryant air conditioners are the top choice for homeowners like you due to their exceptional quality and reliable performance. Their air conditioners provide optimal cooling comfort to fight even the most sweltering summer temperatures. Bryant's commitment to innovation ensures that you get quiet operation and advanced features like smart thermostats for enhanced control and energy savings.
When it comes to selecting the best air conditioning system, Bryant delivers on all fronts, making them a preferred choice for homeowners seeking superior cooling solutions.
Keep Cool this Summer with CMR Air Conditioner Care in Ann Arbor
CMR Mechanical can help keep you cool and comfortable during the scorching summer months. Our skilled technicians will diagnose and address any issues that may be hindering your AC's performance. Our thorough inspections, cleaning, and optimization of your air conditioner will help it operate at its peak, providing reliable cooling when you need it most.
Beyond regular maintenance, CMR Mechanical also offers expert advice on energy-saving to help you reduce your utility bills. Our technicians can recommend and install programmable thermostats and other energy-efficient upgrades that maximize cooling while minimizing your energy consumption. You can rest assured that your air conditioning needs will be handled professionally and promptly, allowing you to enjoy a cool and comfortable home all summer long.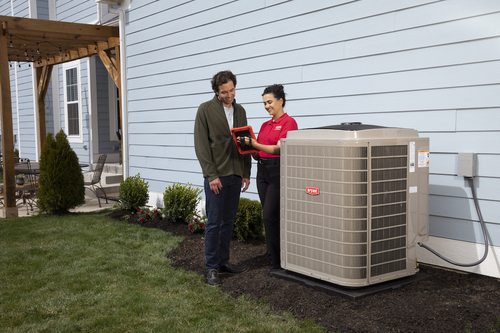 Real Solutions with CMR Mechanical
"Recently we discovered that our heating and cooling system needed to be replaced. None of this was planned... Andy was out the same day after a brief call. Not only was the responsiveness of CMR great, but Andy spent time with us and provided real solutions to the concerns we shared about how the old system performed. By the end of that day, we had solidified a decision. Installation began 2 days later. Joshua and Manuel the primary installers, shared the installation goals for the day, kept us updated, and answered questions. They were very respectful of our wishes, and their work was neat, tidy, and thorough - very professional.
Best of all - once the system was up and running we could not believe the difference compared to the old system - quiet, more uniform heat and the comfort that we had been seeking. We highly recommend CRM for their care, attention, knowledge, and professionalism - very easy to work with. With many thanks, David and Robin."
- David Waymann, Google Reviewer
Contact our team for a free air conditioner estimate at (734)424-9755.