Air Conditioning Contractors in Ann Arbor Help You Decide When It's Time to Upgrade!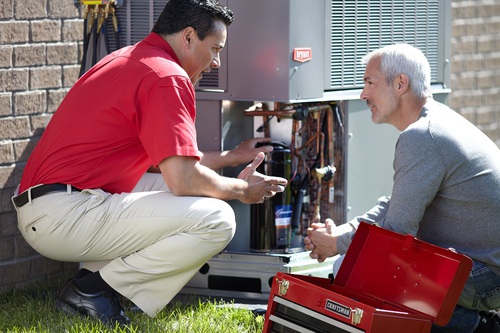 Do you need to replace your air conditioner?
Did your air conditioner recently fail?
Do you have high energy bills?
Our air conditioning contractors in Ann Arbor work full-time in the summer, and they say the biggest factors to consider when deciding to upgrade are:
Unusual sounds
High energy costs
Old age
Seasonal clean and checks
Frequent air filter changes
Low air flow
Odors
If you go through the list above and think any of it applies to your AC unit, it's time to call the pros.
At CMR Mechanical, we offer the very best in heating and cooling technology! That's why we're factory authorized Bryant dealers in the Ann Arbor area to better serve the community with the best quality products you can buy.
CMR Mechanical believes in meeting customer needs to 100% satisfaction. We're committed to providing you with the highest level of service and installation in the industry. In fact, our contractors put a 100% Satisfaction Guarantee for equipment and all services in writing.
Why Choose a Factory Authorized Bryant Dealer?
Written agreements are important so you don't get misled. It can be troublesome to find out that a contractor you hire doesn't have your best interests in mind. Instead, imagine how great it will be to have a virtually worry-free experience!
Whether you're scheduling an appointment, reviewing payment options, or following up on services already provided, we go out of our way to make everything as convenient as possible for you. At CMR Mechanical, we're the caring experts!
Our strong commitment to doing the job right led us to the Bryant line of equipment. "We partnered with Bryant because we want to offer a product that is well built, energy efficient, quiet and reliable. We have been a Bryant dealer for over a year and have been very happy with the relationship," says Andy Bobo, co-owner of CMR.
What Does it Mean to be a Bryant Factory Authorized Dealer?
When choosing a Bryant ductless heating and cooling dealer, look for the Bryant Factory Authorized dealer symbol, which means your dealer has met our highest standards for superior skills, service, and a promise of 100% satisfaction guaranteed.
Our air conditioning contractors in Ann Arbor are held to the highest heating and cooling standard. We're the best because we have to be the best! Read some of our client success stores below. We hope you choose the right contractor to suit your needs. That's us!
Our Customers Say it Best:
These are not fabricated reviews. These are real Google reviews from real customers!
"Our 1950 house didn't have central air conditioning. Once we decided to remedy the situation, Andy Bobo from CMR promptly came out and conducted an estimate. He scheduled install within a week and was very responsive (even texting me directly with updates).

During the installation, the power went out for the whole neighborhood. This meant they couldn't complete the job...on the hottest day on record this summer! Andy called me immediately and told me to text him when the power came on. When the power came back-he sent someone, after hours, to complete the job within an hour!

We would definitely recommend CMR. All their employees were professional and kind. Great customer service and results. Thank you!"
Laura, Ann Arbor
"Andy, the owner and Charlie, the main service guy are an absolute pleasure to work with and extremely honest!!! I have Bryant 90 plus. The furnace was less than 10 years old and they found out that I was having a heat exchanger problem. They were able to replace it under the warranty where another competitor was trying to charge me $700 bucks! These guys are TOP SHELF!!!"
Jack, Ann Arbor
CMR Mechanical – Your Air Conditioning Contractors in Ann Arbor
If you'd like to add value to your home, we're your guys for heating and cooling in Ann Arbor and the surrounding areas! We offer a free in-home evaluation of your existing system. We service and repair residential, commercial and industrial equipment; while specializing in all types of heating and cooling, furnaces, radiant floor heat, refrigeration, water heaters, boilers, and back-up power generators, as well as many other products and services.
Still Have More Questions? We Got Answers!
We recommend downloading our Buyer's Guide; "HVAC Buying Tips Everyone Wants to Know." It will help guide you in the buying process and let you know what you should consider when installing anything from air purifiers to air conditioners to generators and beyond! We can help you make an educated decision.
Our Buyer's Guide is completely free! All you need is a valid email address to receive the guide and it will be sent to you to download.
Ready to replace your air conditioner right now? Our air conditioning contractors in Ann Arbor can help you with that, but you should consider planning ahead for these kinds of upgrades. Call (734) 424-1560 today!