Transitioning Your heat Pump for Spring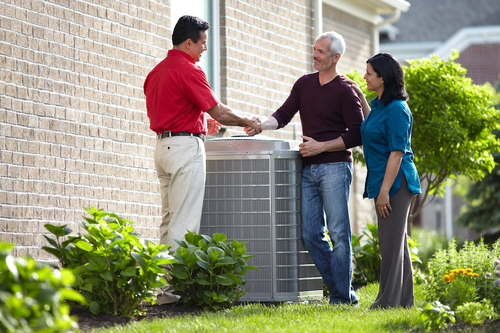 Does the promise of sun and blue skies get you excited for spring?
Are you ready for warmer weather, but not sure your heat pump is?
Do you want to be sure your heat pump is running efficiently?
Maybe your heat pump is new and hasn't been used to cool your home yet, or your heat pump has been around the block a few times and you want to be ready for the first heat wave. Whatever your scenario, now is the perfect time to transition your hybrid unit to work for spring.
Since a heat pump does the work of two machines, regular maintenance and preparation are that much more important. But don't worry, we've made transitioning your heat pump to spring easy with a simple to-do list.
Spring Heat Pump To-Do List
Schedule an Inspection.
It's important to keep your heat pump in top shape by setting up regular maintenance appointments. These should happen twice a year in the spring and fall. Book your appointment early to save a spot before summer weather kicks in. Then, knock off the rest of this to-do list in the meantime!
Remove Your Condenser Cover.
If you opted to protect the heat pump's outdoor components with any type of covering, it's time to remove it. Be sure to remove any cover before the unit switches to cooling mode to avoid damage.
Clear Debris and Obstructions from Outdoor Components.
When you remove the cover, clear the area around the unit as well. Cut back any plants, clear leaves and sticks, and dust away dirt. There should be about a foot of clearance around your unit.
Adjust your Thermostat.
Hopefully you optimized your thermostat settings for winter to save money and be more efficient during the heating season. Now, it's time to check your setting for the cooling season! If you have a smart or programmable thermostat you can update your settings immediately. For standard thermostats, plan your temperature settings and set a reminder in your phone or calendar.
Check the Filter.
Your heat pump needs a clean filter to operate effectively. This means you should change it every 1-3 months. During an inspection, our technician will replace your filter. If it's been a while, you may need to change it now.
Clean Vent and Register Covers.
Vacuum the dust from all your ventilation covers to avoid any obstruction in air flow. You may even consider a professional duct cleaning to maximize efficiency and air quality.
Start Cooling.
Pick a day to test cooling mode and make sure cool air is flowing from your vents. This should be a day well before peak summer weather so a technician can quickly address any problems before you even break a sweat!
Prepare Your Heat Pump for Heating and Cooling in Ann Arbor
Are you ready to keep cool this spring?
Tackle this to-do list to prepare your heat pump and your home for spring weather. We're always here to make heating and cooling your Ann Arbor home easy and comfortable. Our dedicated technicians are ready for spring maintenance calls.
Reach out today and schedule your appointment.