We Are Open For Business
Boilers in Ann Arbor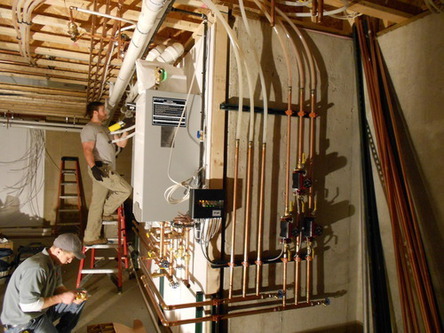 What fuels your boiler (gas, oil, electricity, propane, wood)?
Does your boiler heat your home through radiators, baseboard convectors, radiant floors, or fan-based coils?
Do you know what the British Thermal Unit (BTU) requirement is for your home?
Depending on how you answered the previous questions, there are a number of things you should take into account to choose the right boiler in Ann Arbor for your home. Every home is unique, with differences in amount of insulation, age of heating system, type of boiler, and in climate.
How Do You Pick the Right Boiler in Ann Arbor?
According to Bob Vila, "any boiler with an AFUE rating of 85 percent or more is considered to be a high-efficiency boiler; many of these are Energy Star-certified, which means they meet strict energy-efficiency guidelines set by the U.S. Environmental Protection Agency. Most new oil furnaces today have AFUE ratings of between 80 percent and 90 percent, with their gas equivalents rating between 89-98 percent. Condensing boilers can reach ratings of over 95 percent when used with an outdoor reset modulation feature that accounts for outdoor temperatures. Electric boilers are nearly 100 percent efficient because they produce no waste gas; they can be a good option in areas of the country where electricity costs are low."
What are some Popular Brands of Boiler Systems?
Some of the best known brands available in Michigan are Triangle Tube, Viessmann, and Dunkirk. These brands are available through CMR Mechanical here in Dexter, Michigan, and we would be happy to meet with you to discuss the benefits of each brand. We'll guide you to determine which best suits your needs.
Does CMR Install Boilers in Ann Arbor?
All our technicians are highly trained professionals who are constantly continuing their education through ongoing training, so they stay up to date, assuring you the best service available. If you're unsure about how to pick the right boiler for your home, call us today! We'd be happy to educate you about a new boiler in Ann Arbor today!