We Are Open For Business
8 Common Problems with Boilers! Do You Need Boiler Service in Ann Arbor?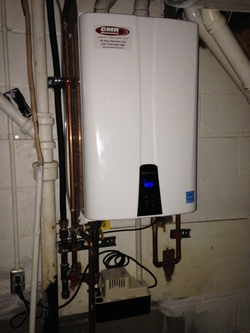 Are you hearing frequent noises coming from your boiler?
Is your radiator cold?
Do you have a boiler, but you're finding it hard to locate a reputable place to get it serviced?
We understand your frustration when you're trying to find a reputable technician, because there are so many out there! Our technicians at CMR Mechanical are highly trained professionals who are constantly continuing their education through ongoing training, assuring you the best service available.
We consistently see the same problems with boiler systems. However, with proper maintenance and care the following problems can be avoided, including:
1. Pressure loss
Cause:
There a number of reasons: a water leak in your system, the pressure relief valve needs replacing or it could be a result of recently bleeding radiators.
What to do:
This type of problem can only be fixed by a qualified heating and cooling contractor.
2. Kettling
Cause:
When lime scale or sludge builds up on your boiler's heat exchanger you can get something called kettling. When these deposits build up in your boiler, they can restrict the flow of water within the heat exchanger. This can overheat the water, causing it to steam and boil causing a kettle-like sound.
What to do:
If your boiler is kettling, you should call a certified heating and cooling contractor who can flush out your system to remove the build-up of these deposits and ensure your system is working properly.
3. Loud noises
Cause:
Air in the system is a common cause, alternatively it could be that the water pressure is too low or it's kettling.
What to do:
Power flushing your pipes will remove lime scale and air from your system. If the noise continues, you should book a service with a qualified heating and cooling contractor.
4. Boiler turns off
Cause:
This can happen for a number of different reasons, including low water pressure, thermostat issues, or if you have a frozen condensate pipe, air in the system or a faulty pump.
What to do:
If it is cold outside, you may need to thaw your condensate pipe. You can also try bleeding your radiators to remove any air in the system. If you notice that your water pressure is low, you can phone your supplier to see if there is any work going on in your area.
5. Leaks
Cause:
Leaks could be caused by a variety of factors including: a broken internal component like a pump seal or pressure valve. If the leak is coming from the pressure valve your boiler pressure is too high.
What to do:
We recommend calling a heating and cooling contractor who can diagnose and either repair the problem or install a new boiler.
6. No hot water
Cause:
If your radiator is hot at the bottom and cold at the top, this may be due to a buildup of air, rust in the pipes, or an issue with the pump (i.e. the hot water is not being circulated properly).
What to do:
The first thing you should do is bleed your radiators to remove any air that is trapped in the system. If this does not improve the heating issues, you may require a power flush.
7. Thermostat not working properly
Cause:
This could be caused by a faulty thermostat. An older thermostat will deteriorate over time causing issues for your heating and cooling system.
What to do:
Make sure your power supply is switched on and working. Next, check your thermostat clock and timer settings, you may need to reset.
8. Frozen condensate pipes
Cause:
Condensing boilers have condensate a pipe which transports the acidic water, caused by waste gas, away from the boiler. This usually runs outside into a drain, and because of its location it faces the risk of freezing.
What to do:
Your boiler has a warning notification if your condensate pipe has become frozen. To thaw a frozen condensate pipe, pour warm water over it. However, if you feel unsafe doing so you should call a certified heating and cooling contractor.
If you're still having any of the above problems with your furnace, it's important that you contact an experienced technician right away for boiler service in Ann Arbor! We'll send a professional to evaluate your existing boiler and explain your options if it needs replacing.
In Need of Boiler Service in Ann Arbor? CMR Has You Covered!
We specialize in all installation and boiler service in Ann Arbor and the surrounding areas - to keep you toasty warm all winter long! At CMR Mechanical, we strive to provide fast and affordable repairs on all makes and models of boilers. Our expertly trained heating and cooling contractors have decades of experience providing reliable boiler services.
For your convenience, we have mastered a number of tasks associated with your heating system:
Boiler repairs
Boiler installation
Baseboard heating
Radiator heating
Hot water and steam boilers
Frequently Asked Questions
How do I know what size boiler I need?
Every house is different. A good contractor will not size your equipment solely on square footage, nor will they assume your existing equipment was sized properly. When you receive boiler service in Ann Arbor, make sure whomever you hire correctly sizes your home for proper efficiency. If your boiler is the wrong capacity, problems can result.
My boiler isn't working. What should I do?
If your boiler stops working, you should check that the thermostat is working, check that the power source is running to the unit, and refer to the trouble shooting section of your owner's manual. If you're unable to find a solution, contact CMR Mechanical for boiler service.
Does my boiler require routine maintenance?
Yes, every boiler needs some routine maintenance. If you're unsure about what that entails, refer to your owner's manual. After you read your owner's manual, and you're still unsure, contact CMR Mechanical for a consultation on routine boiler maintenance.
100% Satisfaction Guaranteed Boiler Service in Ann Arbor
Call us today at 734-424-1560 to schedule an appointment. We'll measure your home and survey your needs to recommend the correct boiler to maximize your comfort. We're committed to providing you excellent service. In fact, we put our 100% Satisfaction Guarantee for equipment and all services in writing!