Tips to Prepare HVAC Units during Stormy Weather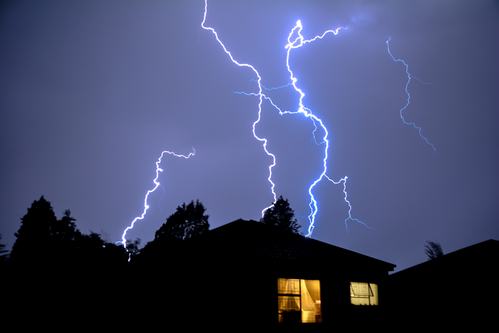 Winter has come and gone, and summer is on the way! Aside from warmer temperatures and sunny days, summer also brings bigger potential for thunderstorms and even severe weather like tornados.
Do you know if your HVAC system is protected?
Severe weather can inflict thousands of dollars in damages, so it's important to make sure that your HVAC system is prepped and protected, just like the rest of your home.
5 HVAC Maintenance Tips for Storms
Get an inspection! A thorough inspection is important if you need your system to last as long as it should. A minor storm could make any already existing problems worse, but an inspection can catch any issues ahead of time. Regular inspections help make your air conditioner run as efficiently as possible.
Strap your HVAC unit down. High winds can lift up HVAC units and send them flying into your home, or across your property, especially in the event of a tornado. Use straps to keep your system in place during high winds.
Get a surge protector! You likely have these in your home to keep your electronics safe in case of brown outs or power outages. The same damage could be done to your air conditioner! When lightning strikes, it can cause severe damage to any electronics in your home, including your HVAC unit and indoor appliances.
Cover your HVAC unit. This step is often overlooked by homeowners, but it's a good idea to get a cover for your air conditioner. Flying debris during a storm could cause dings, scratches, and other damage to your unit. Excessive rainfall could also flood in the interior components. Use a tarp to keep your air conditioner safe!
Turn off your system during a storm. Even if you have a surge protector, it's not 100% guaranteed to prevent electrical damage. Turn off all the appliances in your home, including your HVAC system, before a big storm arrives.
The Most Important Step to Maintaining your Air Conditioner Is…
Regular maintenance! Prepping your unit for summer storm season is an important step to keep it protected and save you money in the long run. Making an appointment with a professional during the spring will save you the possible headache of navigating peak AC service time in the summer as temperatures soar.
Need an Air Conditioner Tune-Up in Ann Arbor? CMR Has You Covered.
Scheduling a tune-up in the AC off-season will also give you the assurance that you'll have a unit that's running great by summer and an appointment time that's convenient for you.
Save money and time by scheduling a comprehensive AC tune-up today with an air conditioner expert in Ann Arbor. Still need more convincing? Give us a call today to discuss your heating and cooling needs or for more questions about an air conditioner for your Ann Arbor home.