5 Easy Ways to Reduce Home Allergens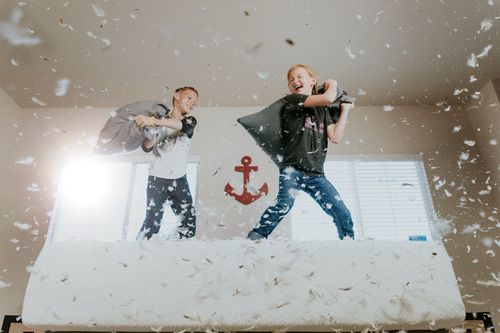 Is your nose runny or irritated?
Experiencing outdoor allergies inside your home?
Dust bunnies multiplying in your home?
Allergens may be sitting on surfaces and destroying the air quality in your Ann Arbor home. Examples of home allergens include dust mites, pet hair and pet dander, dust, and outdoor allergens – like pollen – brought inside on clothing and shoes. These allergens can irritate your sinuses and can contribute to an unclean home.
Here are our 5 tips to reducing home allergens and increasing air quality:
Vacuum and Dust Regularly ‒ Cleaning can remove unseen allergens in carpets and on hard to reach items like fans and blinds. Regular cleaning keeps allergens from building up.
Wash Soft Surfaces Often ‒ The largest home for allergens is actually your bed! Wash blankets, stuffed animals, and pet beds often to keep your space comfortable.
Keep Windows Closed ‒ Outdoor allergens can sneak inside your house through open windows. Create a barrier by keeping windows closed.
Use Air Purifying System ‒ An air purifying system traps and holds airborne allergens to keep your home's air clean.
Clean Air Vents and Filters ‒ Even air purifying systems can contribute to home allergens if they aren't kept clean. Dirty vents and filters can release allergens, so clean your vents and change your filters often.
We're dedicated to improving your home's air quality in Ann Arbor
Do you dream of fresh, clean air in your home? We can deliver!
At CMR Mechanical, we provide high quality air filtration systems. Many of our products are certified by the Asthma and Allergy Foundation of America. Our technicians are factory trained and qualified on almost all brands of indoor air quality in Ann Arbor.
We can install and service your system to ensure your home and family are comfortable. Your satisfaction is important to us. That's why we have a 100% Satisfaction Guarantee on all our products and services!
If you're ready to improve the air quality in your Ann Arbor home, call us today at 734-424-1560 to schedule an appointment. We'd love to hear from you!