What Does It Mean to Have a Blank Display on Your Thermostat?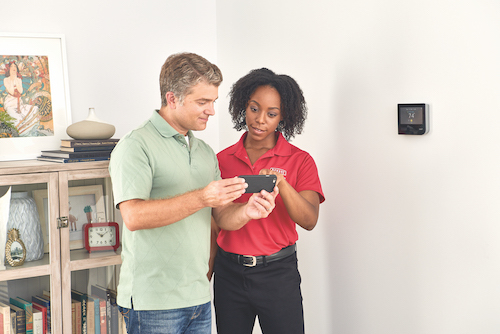 Do you have a blank display on your thermostat?
What does it mean?
Do you know what to do to check to see if it's a serious problem or not?
We understand you must be frustrated. You just want things to work and when they don't, it can be an inconvenience. At CMR Mechanical, we want you to sit back and relax while you let our experts fix whatever problem you may be facing.
Could it be your batteries?
Many battery-powered thermostats have an indicator on the display to let you know if the batteries are running low, but some don't. So, it's best to replace the batteries first to see if that fixes your problem.
Did you check the power?
Did you blow a fuse? Check your fuse box to ensure power is running to the unit. If this doesn't fix the problem, then it could be a bad switch or something more severe. You should contact a local HVAC technician.
Could it be a bad transformer?
Modern thermostats are powered by transformers in your air handler or furnace. If there is no power to the transformer, check your breakers. If your thermostat still has a blank display after resetting your breaker, you may have a serious problem. Contact your local HVAC technician for help.
What else could cause a blank display?
It could simply be that your transformer is bad and needs a replacement, or an animal could have gotten into your attic and chewed wires. We've seen it all!
Expert Heating and Cooling Technicians in Ann Arbor
We'll investigate your blank display problem and get it resolved as quickly as possible. Our techs are factory trained and qualified on virtually all brands of heating and cooling equipment and indoor air quality. We'll never try to sell you a system or upgrade that you don't need. We'll explain the problem if one exists, and help you understand how it should be repaired. Give us a call at 734-424-1560 today