What Can You Do About Blocked Air Conditioning Drains?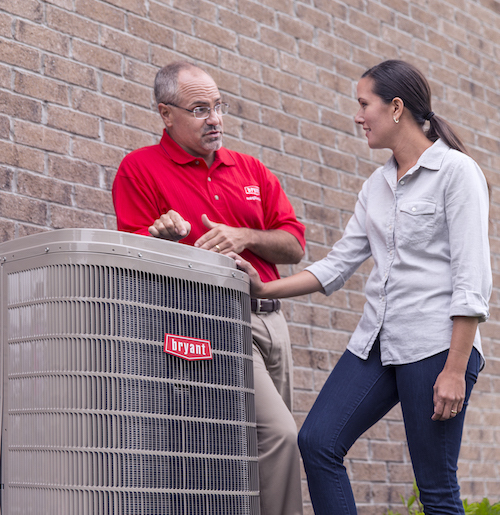 Is your condensate drain leaky even when your air conditioning is off?
Is it bad if you ignore a blocked AC drain?
What could happen?
When your air conditioning is operating properly, the drain will only drip when the AC is operating. The puddle that forms outside should be small. If you notice continuous dripping or a large amount of water, you should have your air conditioning unit inspected immediately for signs of a blocked drain.
Blocked drains are something you don't want to ignore. There could be many consequences, including:
Water damage
Toxic mold (related to water damage)
Bad air quality
System breakdown
Fire (because of water flooding the electrical components)
What causes blocked drains?
In most cases, it's because dust and bacteria find their way into the line. When this happens, it can form a sludge that accumulates and blocks the pipe. This happens when your air filter is dirty or inefficient, allowing too much dust to enter. However, even a small amount of bacteria or mold can multiply fast, causing a blockage.
Air Conditioning Installation: Customer Success Stories!
These are not fabricated reviews. These are real Google reviews from real customers!
"I'll save you some research - Call CMR. CMR is a local, family-owned heating and cooling company that provides high end service with INTEGRITY. They stick to their quote. Their guys show up when they say they will and they do the job right. I can tell you from experience that you can't say that about most heating and cooling companies."
Joe, Ann Arbor
"I was extremely impressed by the service provided today by Scott B. and Charlie! They were punctual, knowledgeable, professional and courteous. They provided exceptional customer service. I will definitely be using CMR Mechanical in the future and will recommend them to others."
Jennifer, Ann Arbor
"I had air conditioning installed in a ductless 1957 home. They were quick with quote, always on time and had it installed in a very short period of time, coordinating with electrician who worked with the same timeline, consulting me on every step. I'm so pleased with the Mitsubishi system and the job they did."
Vickie, Ann Arbor
Schedule a Clean and Check to Ensure Your Air Conditioning in Your Ann Arbor Home is Top-Notch!
If you'd like a free in-home evaluation of your existing air conditioning in your Ann Arbor home, or any other professional advice about heating and cooling please feel free to contact us at info@cmrmechanical.com or call (734) 424-9555. CMR Mechanical prides itself on honest, quality service!

"I have used CMR Mechanical for many years to maintain my steam boiler. They are very knowledgeable and, at my request, have helped me understand how to maintain it. Whenever I have had a problem they responded promptly. I never feel as if they are pushing me to spend extra money. On the contrary, have helped me figure out how not to have emergency calls in the winter and, in fact, my need to call them in the winter has gone away since we changed what to do during routine fall maintenance. I would recommend them without reservation," says Eve in Ann Arbor, Michigan.