Explaining the High-Efficiency Electric Home Rebate Program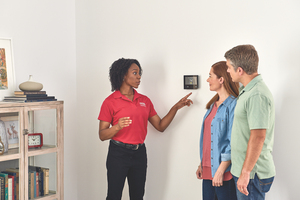 Is your furnace on its last legs?
Do you want to save money but still upgrade your HVAC system?
The colder months are rapidly approaching and you won't want to deal with the hassle of replacing your clunky old furnace in the dead of winter. Installing a heat pump in your home offers many benefits, including:

Better air quality: Heat pumps can regulate healthy moisture levels throughout the year, dehumidifying when necessary.
Peace & quiet: New technology in heat pumps allows for a much quieter and smoother experience compared to conventional air conditioning.
Ease of install for ductless heat pumps: Switching to a ductless heat pump is usually a simple process – if your home doesn't rely on ducts for heating, installing a heat pump only requires punching a few holes in a wall.
The main benefit of heat pumps is efficiency. They are a much more energy-efficient option than your standard furnace. This efficiency is better for not only your wallet, but also the environment. Recently, a new government-issued rebate program was announced to incentivize the installation of heat pumps.
The Inflation Reduction Act is wide-spanning law that aims to reduce greenhouse gas emissions in a number of ways. Included is the High Efficiency Electric Home Rebate Program (HEEHRP), which offers low to moderate income households a significant cost offset for new heat pumps. The HEEHRP offers to cover 100% of the costs (up to $8,000) of installation of a new heat pump for low-income households, and cover 50% of the costs for moderate-income households. This program is expected to start in 2023 be in effect for 10 years.
Heating Your Ann Arbor Home
If you constantly need furnace repair in Ann Arbor, consider upgrading to a heat pump. Heating Ann Arbor homes is what we do best, and our technicians specialize in checking the health of residential heating and cooling systems and improving their efficiency. You'll notice a difference in how your home feels and it's a great way to extend the life of your system. We'd love to work with you to meet your heating and cooling needs! Contact us today to schedule an inspection!