How to Extend the Life of Your Water Heater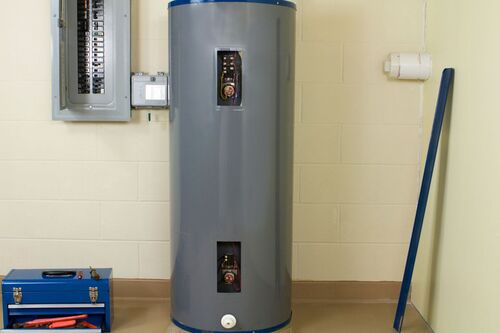 Have a newer water heater you want to make sure will last?
Do you have an old water heater you're not ready to spend the money on to replace?
Looking for tips from experts for maintenance on your water heater?
Ah, the old faithful water heater. It toils away, mostly unseen, providing you hot water all day long without asking for much in return. But you might be surprised to know a little maintenance on this appliance can go a long way and extend the life of your water heater!
1. Replace the Anode Rod
One of the major threats to your standard water heater is corrosion. With corrosion, the question is not if it will happen, but when it will happen. To delay the inevitable, your water heater is equipped with an anode rod which corrodes before the steel tank of the heater. You can replace this rod when it's near the end of its life and extend the life of your water heater.
One easy way to tell the life expectancy of your anode is by the warranty on the unit. If the warranty is 10 years, the anode should be good for about 8-10 years. If you're nearing that point, it's time to make the switch!
2. Test the pressure release valve
Check the pressure release valve annually to make sure it still functions. The valve is located at the top of a pipe running parallel to the tank of your water heater in many models. When you lift the valve (slowly), water should come out of the pipe. If there is no water, however, it's time for a new valve, which is an easy fix. Before testing the valve, make sure you're ready with a bucket to catch water from the pipe!
3. Drain sediments
To clean sediment from your tank, turn off the cold water supply to the tank, locate the drain valve and open it slowly. Be prepared to allow two or more gallons of water to run out of the tank before the water is clear of sediment. This water is very hot, so use caution!
4. Set to 120F
This should be an effective setting for most homeowners hot water uses and help the water heater stay efficient for longer by running less. If your water heater doesn't have numbers on the temperature control dial, you can check the temperature with a food thermometer in hot water running from the tap.
5. Test Your Water
If you have hard water, your water heater is working harder than it's really designed to. Hard water produces more sediment and puts more stress on the system than softer water. If testing your water shows you could use water softener, this addition will benefit the longevity of your water heater!
Heating Ann Arbor Homes: Call Today for Water Heater Maintenance!
Before doing any maintenance on your water heater, make sure you take proper precautions such as switching off electricity or wearing gloves. When you're prepared, maintenance on your water heater can save you time, money, and headaches. Give the experts in heating Ann Arbor homes a call for more tips on how to make your water heater and other appliances last!