Best Furnace Repair in Ann Arbor!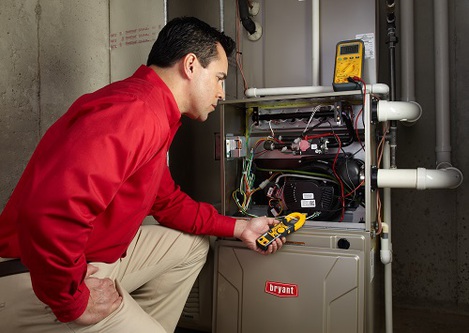 Is your furnace on the fritz?
Are you worried you won't get your money's worth if you call an HVAC contractor to fix your furnace?
Do you want the promise of a 100% satisfaction guarantee?
We offer the best value when it comes to furnace repair in your Ann Arbor home.
We'll send a professional to evaluate your existing heating and cooling system and explain your options if it needs to be replaced.
According to Angie's List, "there are several signs to indicate that you should call a professional to diagnose your HVAC system before it fails, including:
• Noisy operation: Very few furnaces are totally quiet when they're running, but if your furnace makes noises that continue to grow louder, it's worth a closer look. A common source is a cracked or partially broken belt that is still functioning but may completely break at any time. Whining sounds may indicate a problem with the ignition.
• Need to increase the thermostat setting: Many people turn up the thermostat a few degrees to maintain comfort inside when the temperature outside is very cold. When this is not enough, or you must keep increasing the setting, it's time to check the system. The problem may be the thermostat itself, a leak in the ducts or the furnace.
• Rapid cycling: A furnace that turns on and off quickly is said to have a rapid cycling condition. If you notice this occurring in a furnace that previously worked properly, a problem may have developed with the thermostat, wiring or possibly the ignition system.
• Increasing monthly utility costs: Look at your monthly energy costs over several months and note if there has been a steady increase without any change in your rates. This is a good indicator, especially if you notice other furnace failure symptoms during the same period."
Local, Family Owned Heating and Cooling Contractor
At CMR Mechanical, we believe in the personal touch. Located just outside of Ann Arbor, Michigan, we're very proud to be a local, family-owned furnace and air conditioning service company. Everyone here at CMR Mechanical, lives in or near Ann Arbor or in one of the surrounding areas. For quality service you can trust, call CMR Mechanical.
Knowledgeable Contractors for Furnace Repair in Ann Arbor
At CMR Mechanical, we provide ongoing training for our service technicians. Our techs are factory trained and qualified on virtually all brands of heating and cooling equipment and indoor air quality. We'll never try to sell you a system or upgrade that you don't need. We'll explain the problem if one exists, and help you understand how it should be repaired.
In addition, if your furnace doesn't need to be repaired but you want to upgrade, we can make those recommendations as well. If you're looking for ways to increase your energy efficiency, reduce fuel consumption, or help your home stay comfortable all year round, we can help!
Customer Success Stores: Hear from Our Clients!
"My wife and I recently purchased an old farmhouse and are in the process of updating the outdated mechanical systems. We were in need of natural gas hook-up, installation of new furnace, hot water heater, and stove. After getting several bids from other companies without receiving call backs we were referred to CMR. We cannot say enough about the professionalism of the company from start to finish. They were trustworthy, timely, clean and generally pleasant to deal with. The product options they offer are up to date and extremely efficient. We are very happy with the work that was done. CMR will be our first call for any future service needs."
Michael, Ann Arbor
"Our furnace had stopped working in the night, so I called CMR Mechanical and they were to our house and had it fixed by 9 a.m.! Charlie, the technician, explained it was a high limiter switch that had tripped. He showed me how to fix it the next time it happened. I really appreciate their honesty and expertise!"
Andy, Ann Arbor
"AMAZING! I have had to reach out to CMR 2 times in last couple of months. Once for an AC unit at our office, and just recently for a broken furnace at our house. (it was 7 degrees outside). Not only do they provide exceptional service, but they go above and beyond to make sure we taken care of in a timely manner. They understand the true meaning of getting the job done."
Jessica, Ann Arbor
100% Satisfaction Guaranteed Furnace Repair in Ann Arbor
Call us today at 734-424-1560 to schedule an appointment. We'll measure your home and survey your needs during a furnace repair to recommend the correct solutions to maximize your comfort. We're committed to providing you excellent service. In fact, we put our 100% Satisfaction Guarantee for equipment and all services in writing!