Why Choose a Factory Authorized Bryant Dealer?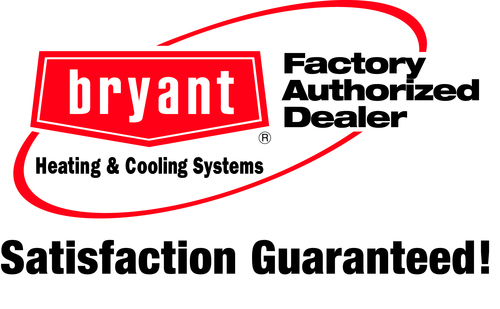 Are you looking for an experienced technician?
Do you want to work with a heating and cooling technician who is the best in the business when it comes to installing Bryant furnaces?
Do you want the promise of a 100% satisfaction guarantee?
CMR Mechanical believes in meeting customer needs to 100% satisfaction. We're committed to providing you with the highest level of service and installation in the industry. In fact, our contractors put a 100% Satisfaction Guarantee for equipment and all services in writing. It's our promise to you!
Written agreements are important so you don't get misled. It can be troublesome to find out that a contractor you hire doesn't have your best interests in mind. Instead, imagine how great it would be to have a worry-free experience!
Whether you're scheduling an appointment, reviewing payment options, or following up on services already provided, we go out of our way to make everything as convenient as possible for you. At CMR Mechanical, we're the caring experts! Our technicians are highly trained professionals who continue their education through ongoing training, so they stay up to date to ensure you get the best service available.
What it Means to Be a Bryant Diamond Dealer!
According to Bryant, "Factory Authorized Dealers stand with the unparalleled performance he/she offers—from reliable service to technical know-how. When choosing a dealer, look for the Bryant Factory Authorized Dealer symbol, which means your dealer has met our highest standards for superior skills, service, and a promise of 100% satisfaction guaranteed."
Our strong commitment to doing the job right led us to the Bryant line of equipment. "We partnered with Bryant because we want to offer a product that is well built, energy efficient, quiet and reliable. We have been a Bryant dealer for over a year and have been very happy with the relationship," says Andy Bobo, co-owner of CMR.
What May Happen If You Hire Someone Who Isn't a Factory Dealer?
If you decide to hire someone who isn't a factory dealer, you may deal with additional repairs later on. In addition, if repairs are needed, parts may not be readily available. When you deal with someone who isn't a dealer, you're dealing with a contractor who probably has less experience and education than CMR.
Diamond Dealers can ease your mind about the installation process, while you take comfort in the fact that your family is in good hands. At CMR Mechanical, we want you to consider us your go-to-guys for heating and cooling in the Ann Arbor area!
The Best Contractor for Heating and Cooling in Ann Arbor: Our Clients Say It Best!
"Andy the owner and Charlie the main service guy are an absolute pleasure to work with and extremely honest!!! I have Bryant 90 plus furnace that is less than 10 years old and they found out that I was having a heat exchanger problem and they were able to replace under the warranty where another competitor was trying to charge me $700 buck! These guys are TOP SHELF!!!"
Jack Russell, Ann Arbor
"AMAZING! I have had to reach out to CMR 2 times in last couple of months. Once for an AC unit at our office, and just recently for a broken furnace at our house. (it was 7 degrees outside). Not only do they provide exceptional service, but they go above and beyond to make sure we taken care of in a timely manner."
Jessica Dobracki, Ann Arbor
"CMR Mechanical was recommended by a friend when my air conditioning went out. Charlie was the most professional and effective technician or contractor I have ever had in my home. I am already planning to have something new added, and I will definitely call CMR to do it."
Lisa Sommers, Ann Arbor
We Offer a $140 Clean & Check Inspection
This offer is valid all day, every day, all year! This is by far the best deal around to ensure that your furnace is running in tip-top shape! Don't put cleaning your HVAC aside like you would your laundry. Your HVAC is a very delicate system that must be cleaned on a regular basis to ensure best performance.
Don't wait until the last possible second when your system's on the brink to call and get it fixed! We're here to help you avoid those types of disasters! The first step is to schedule a $140 clean and check inspection!
CMR Mechanical – Your Experts For Heating and Cooling in Ann Arbor
If you'd like to add value to your home, we're your guys for heating and cooling in Ann Arbor and the surrounding areas! We offer a free in-home evaluation of your existing system. We service and repair residential, commercial and industrial equipment; while specializing in all types of heating and cooling, furnaces, radiant floor heat, refrigeration, water heaters, boilers, and back-up power generators, as well as many other products and services.
Contact us at info@cmrmechanical.com or call (734) 424-9555. We pride ourselves on honest, quality service, and we'd love to help keep your home warm in the winter, cool in the summer, and comfortable all year long!