How to Maintain Your Heat Pump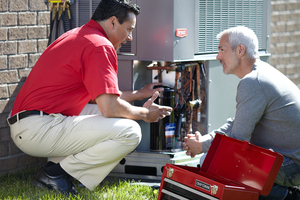 Have you been routinely maintaining your heat pump?
Want to save money on your energy bills?
Spring is right around the corner, but that doesn't mean we'll be seeing warm temperatures any time soon. Heat pumps work all year to heat and cool your home. Keeping your heat pump maintained ensures that your system is running efficiently and can even lower the price on your energy bills. According to the U.S. Department of Energy, a properly maintained heat pump can reduce energy consumption up to 25%. If you want to save money and keep your home comfortable, follow these tips:
Regularly Clean and Replace Filters
Cleaning and changing your filters once a month is a good rule of thumb for keeping your system running properly. Dirty filters will reduce the airflow through your system and can potentially lead to damage.
Keep Indoor and Outdoor Units Cleared
Objects placed too close to indoor and outdoor units can block airflow needed to ensure your system runs properly. Make sure there's enough space around both units.
Keep Your Fan on the "Auto" Setting on Your Thermostat
Letting your fan run on its own without interference is preferable. Your system knows when it should turn the fan on and off, and constant tinkering with the fan setting can cost you more money.
Check for Leaks
Catching leaks before they become too serious can save a lot of time and money. Make sure you're regularly checking for refrigerant leaks, and always use the correct refrigerant for your unit.
Have Your Heat Pump Inspected by a Professional
A regular check-up by professionals will keep your system operating at its highest potential. Consider calling the experts at CMR Mechanical to schedule an inspection.
Expert Inspections of Heat Pumps in Ann Arbor
We're your local heating and cooling specialists. Our trained and experienced technicians will promptly diagnose any issues with your heat pump in Ann Arbor or the surrounding areas and let you know of any necessary repairs or if you need a replacement. Contact us today to get started!