Mitsubishi Ductless Ann Arbor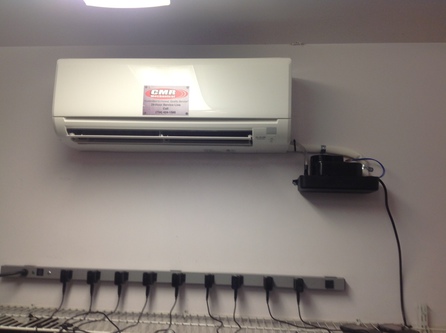 Do you own an older home without ductwork?
Is a space heater just not keeping your home warm enough?
What does a Mitsubishi ductless system have that a forced air system doesn't?
At CMR Mechanical, we want to ensure that you have all the knowledge you need to make an educated decision on your next heating and cooling system, because after all, having a comfortable home can make a huge difference in virtually all aspects of your life!
Mitsubishi Ductless Systems:
Uses eco-friendly technology to save on energy
Eliminates allergens and odor with dual and triple multi stage filtration
Runs quiet, enabling relaxation
Designed for exact room needs
Easy to maintain, because of variable refrigerant flow technology (VRF)
Installed in small spaces to allow more interior design
They're small in size, which increases interior design flexibility
They're flexible for zoning (heating and cooling individual rooms)
They're safer, because there is only a small hole in the wall, unlike the through-the-wall and window-mounted room air conditioners, which can provide easy access for intruders
Installation is easy!
Great for additions, garages, cottages, cabins, etc.
Available in higher SEER (Seasonal Energy Efficiency Ratio) ratings (up to 26 SEER)
Forced Air:
Cheaper to install.
Cheaper to maintain.
Heats and cools your home.
Simple to use.
Treated by a humidifier, reducing dry air.
However, if you own an older home without ductwork, air can cost you a lot more money when you include installation of the ductwork. Mitsubishi Ductless offers a variety of comfort levels, plus advanced technology that quietly and efficiently cools or heats your home. This new technology will also allow you to switch the temperature with room-by-room control!
Top Rated Mitsubishi Ductless Ann Arbor
According to EnergyStar.gov, Mitsubishi Electric is America's No. 1 selling brand of ductless cooling and heating technology, having nine systems that qualify for the Energy Star Most Efficient 2013 designation, making it the leader in Most Efficient ductless products.
Does CMR Install Mitsubishi Ductless in Ann Arbor?
Yes. We would be happy to sit down with you and discuss your heating and cooling needs for your Ann Arbor home. Because we're a family oriented local business, we really enjoy meeting people in and around Dexter, Ann Arbor, Chelsea, Ypsilanti, Plymouth, Milan, Whitmore Lake, and Saline.
Schedule a Consultation for Mitsubishi Ductless in Ann Arbor Today!
If you'd like a free in-home evaluation of your existing system during a $99 Clean & Check Inspection for your home, or any other professional advice about heating and cooling please feel free to contact us at info@cmrmechanical.com or call (734) 424-9555. CMR Mechanical prides itself on honest, quality service!
Give us a call at (734) 424-9555 if you would like to talk more about a Mitsubishi ductless system.