RGF Halo Whole Home Air Purification System Kills 99% of Viruses on Surfaces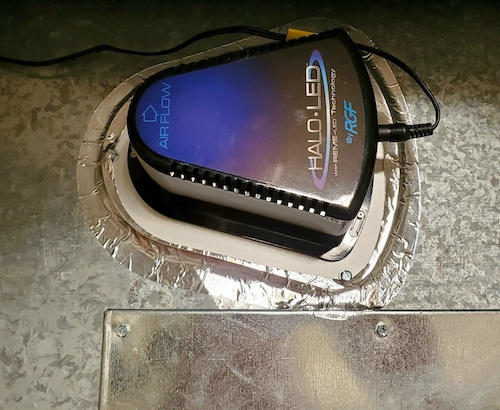 Want to protect your home from harmful viruses and bacteria?
Keep your family safe with the new Halo LED Whole Home Air Purification system by RGF which uses an LED bulb and a catalyst to create Hydro Peroxides in the airstream of your home or office ductwork. These peroxides treat every square inch of air and kill 99% of viruses.
RGF is currently awaiting final testing from China to confirm the effects on COVID-19, but early studies suggest that it can significantly reduce your and your family's chances of contacting the virus if the particles enter your home. This technology also eliminates volatile organic compounds (VOCs) and reduces smoke, odors, allergens, dust and particulates. The unit is certified zero ozone and is certified in California.
The LED bulb cycles on and off with the fan, reducing electricity usage. The unit is self-cleaning and can be installed on systems with ductwork included in most homes. The units come with a 7-year parts and 4-year bulb warranty with a 1-year labor warranty.
Purify the Air You Breath for Years to Come!
At CMR Mechanical, you'll find we take our job and your family's comfort very seriously and we greatly value the trust that you place in us.
We're an authorized installer of RGF products and can be reached at 734-424-1560. We'll measure your home and survey your needs to recommend the appropriate air filtration system for your furnace in Ann Arbor to maximize your comfort. We're committed to providing you excellent service. In fact, we put our 100% Satisfaction Guarantee for equipment and all services in writing!