Improve Energy Efficiency with the Right Thermostat for your Home!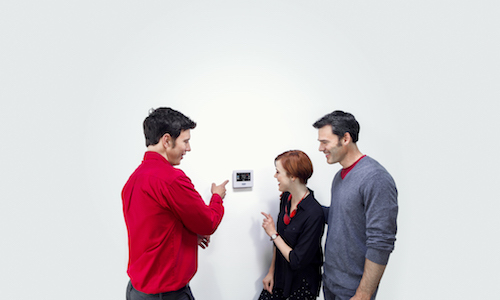 Want to boost your home's energy efficiency? Interested in a new thermostat that could save you money? Want tips to lower bills on heating your Ann Arbor home as we head into cooler months?
Cooling and heating are two of the biggest costs on your utility bills. In Michigan, you might think there's not a lot you can do about your heating and cooling expenses with temperatures in the 90s for a good part of the summer and well below freezing for most of winter. But there's actually a good chance you're not using your thermostat efficiently and could be missing out on savings in gas and electricity costs!
How can thermostat settings save you money on heating and cooling?
According to Energy.gov, setting your thermostat 7-10 degrees closer to the outside temperature for 8 hours a day saves 10% on your heating and cooling bill. That's a major upgrade in home efficiency.
The recommended efficiency settings for the heating and cooling seasons are 68 and 78 degrees respectively. So, if you can manage to have your thermostat set to about 85 degrees for a portion of your summer days, you'll save a lot of money! But that may not be easy to do if your schedule is different each day, or if you tend to forget to change your thermostat when you leave the house.
That's where choosing the right thermostat for your home comes into play. With many different thermostat options available to you, there's one that fits your home and lifestyle.
What are the different types of thermostats?
Manual: the simplest and least expensive option available, manual thermostats require you to set the temperature manually and have only a few settings. The average cost is about $25-50
Programmable: depending on the type of programmable thermostat, you can activate 6 settings or more to make your home run more efficiently without manually changing the temperature. For example, programming the thermostat to turn off your AC while you're at work for the day results in big energy savings. Some of these thermostats will even have your house divided into different zones that you can program separately to save more. The average cost is about $100-150.
Smart: there's a smart version of everything today, and thermostats are no different. Key features of smart thermostats can include the ability to learn temperature setting preferences according to how you use it and Wi-Fi connectivity that allows you to change settings even when you're not home. The average cost is $200-$300.
What type thermostat is best for your home?
Manual: they may not sound too special, but for people with a smaller space who are home most days, a manual thermostat is a good option. You have to remember to change the settings manually to save money and energy, though, which can be tough on anyone.
Programmable: upgrading to a programmable thermostat is a smart move for most people because you can set it and forget it. It's especially efficient for people who have a regular schedule that takes them out of the house several days a week. When you leave for work, your thermostat automatically changes settings to save you money!
Smart: if you've ever left the house and thought, "I wish I would have remembered to turn off the AC!" a smart thermostat could be a great choice for your home. This type of thermostat has the edge on home efficiency; just be sure you'll make use of it's features before you invest.
Save on bills with cooling CMR Mechanical cooling and heating in Ann Arbor.
Whether you're ready to upgrade your thermostat today or still have questions about what type of thermostat is the best choice to improve your home's efficiency, CMR Mechanical is ready to help! As experienced heating and cooling specialists and authorized installers of Nest Eco-Friendly Smart Thermostats, we can make your home more efficient with the right thermostat. Give us a call today!