What are the different types of water heaters?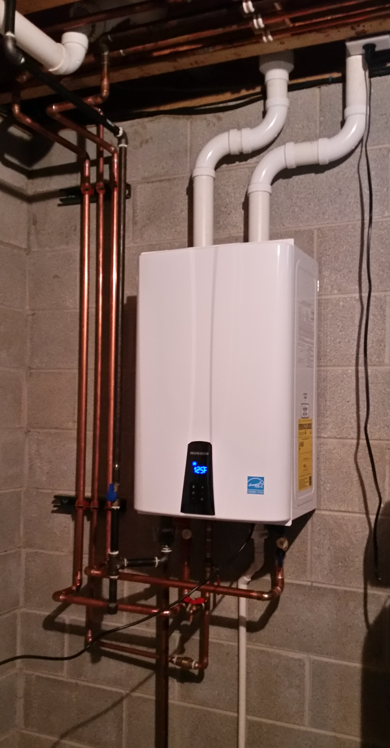 Is your water heater on its last legs? Are you looking for a more energy efficient or cost effective heating and cooling in Ann Arbor? Wondering what your options are? If you're replacing the water heater in your home, there are solutions for any situation, whether you're looking to go green, save money, or just take a hot shower and run the dishwasher at the same time.
Storage Tank Water Heater
The most conventional and common type of water heater, these units use natural gas or electricity to heat water in an insulated storage tank. Manufactured in a range of sizes, this type of water heater can suit the needs of a single person home or a moderate size family.
Tank water heaters keep water at a preset temperature; whenever the temperature dips, the unit fires up and heats the water. This means the heater is working when you're using hot water and when you're not (and maybe won't be for hours!). Constantly maintaining the temperature of water in the tank makes these heaters less efficient than other types.
Tankless Water Heater
The more energy efficient, younger sibling of the conventional water heater, is a tankless water heater! It works on-demand, heating water only when you want it! Without a tank, these heaters supply hot water at a limited rate; one unit can only meet one demand for hot water at a time. That means if you're washing a load of whites in hot water, you'll only be able to take a cold shower! With these heaters, either avoid simultaneous hot water demand, or install two or more tankless water heaters hooked up to different appliances.
These units will save you money with their energy efficiency, space with their compact design, and will last up to twice as long as conventional water heaters, but cost double upfront.
Heat Pump Water Heater
These types of water heaters leverage the heat from their environments, transferring heat in the air to water stored in a tank. In warmer climates or warmer areas of the home (like a furnace room), heat pumps can be two or three times more efficient than conventional heaters! However, these water heaters don't work as well in cold spaces (like an unheated basement in a Michigan winter).
You can set up the units to use heat in the environment in a variety of ways to maximize efficiency: the unit can pull heat from air outside in the winter and from air inside in the summer, or it could pull heat from the ground in the winter and the air inside in summer, or pull heat from the air inside all year. Weather patterns and other conditions will dictate which of these options is best and most efficient for your home.
Solar Water Heater
Available in passive and active models, these units collect the sun's energy to heat water. Because solar panels collect light energy rather than heat energy, this type of heater is a viable option in any climate! Similar to conventional and heat pump units, solar heaters store and heat up water in an insulated tank. Active units use a pump to move water while passive units actually use gravity to move water, cutting costs.
This option is great choice for those who live in either warm or freezing climates. The upfront cost of solar technology is considerable, although tax credits and rebates are available to reduce the cost.
Let Heating and Cooling in Ann Arbor Guide You!
Still not sure which option is best for your home? Our experts can assess the needs of your home and help you choose the water heater that's right for you. With our services, your satisfaction is 100% guaranteed. Give us a call today and get answers to all your questions for heating and cooling your Ann Arbor home!