How Does Ventilation Impact Your Comfort?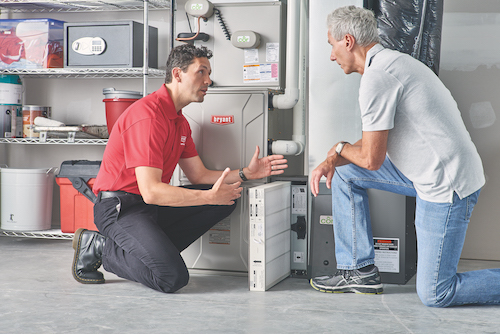 Do you find your space stuffy?
Do you have to think twice about closing all the windows to turn on your AC?
Do odors linger in your home or migrate to unwanted areas?
The solution to these issues may be simpler than you realize. If you're experiencing stuffiness or unwanted odors, your ventilation could be to blame.
It's the job of your HVAC system to heat, cool, clean, ventilate and control the humidity of your home. Adding the right amount of air from the outside is something your Ann Arbor home may be struggling with. This could make the air stagnant and uncomfortable, if there's no way for fresh air to enter the home. On the other hand, if a home isn't properly insulated, air might be entering when you don't want it to, like hot air on a summer day or cold air in the winter. This makes your HVAC system work twice as hard to regulate your home temperature.
The problem with stagnant air or too much unregulated outside air goes deeper than unpleasant scents or a drafty home. Without ventilation, moisture-rich air is left to sit in your space, causing potential mold. This air could also carry bacteria and pathogens that could be harmful to yourself or your family. If air moves too freely from outside your house to inside, that air might bring in all kinds of unwanted things including allergens or odors.
The Solution: Air Conditioning Repair for your Ann Arbor Home
Either way, the solution to faulty ventilation is a mechanical ventilation system. This can do two things: it can control how much air comes into your home and where the fresh air comes from. Too much or too little air is obviously an issue, but getting the right air is important too. Would you rather take air from the left side of your house where there happens to be a gas station and air packed with fumes and toxins, or from the right side of your home where there's a beautiful meadow?
What can be done about a space with too little or too much of the wrong kind of ventilation? If you're tired of a stuffy bedroom keeping you up at night or the smell of dinner from two nights ago lingering in your kitchen, it might be time to get your air conditioner repaired.
Take the First Step Towards a Healthier, Happier Home Today!
What can an air conditioning repair do to improve your Ann Arbor home's air quality? There are several different ways your air conditioner can be repaired and improved to allow for better ventilation. Better ducts or fans can be incorporated into your existing system, or they can be part of a completely new addition. What works best for you depends a lot on your space, how the space is used, and the climate you live in. To learn more about how you can improve ventilation in your home, contact CMR Mechanical today to schedule an air conditioning repair for your Ann Arbor home.