We Are Open For Business
How to Determine Whether an Air Conditioning Repair is Needed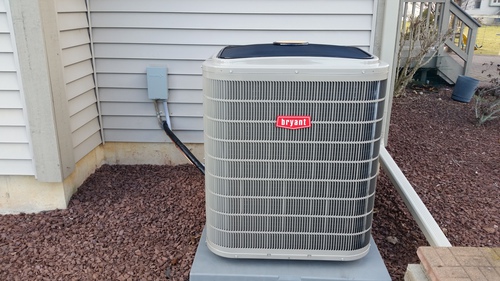 Is your air conditioner in need of repair? How can you tell? Are there some simple ways to know if it's time to call the repair team at your favorite air conditioning repair company in Ann Arbor?
All you need to know is right here!
At CMR Mechanical, we'll ensure that your air conditioner is in tip-top shape! We'll never suggest unnecessary upgrades for your home or business. However, if you do need an upgrade, we'll let you know when you call us for air conditioning repair in Ann Arbor or the surrounding areas.
Schedule an Air Conditioning Repair in Ann Arbor Today!
If you'd like a free in-home evaluation of your existing system during an air conditioning repair for your Ann Arbor home, or any other professional advice about heating and cooling please feel free to contact us at info@cmrmechanical.com or call (734) 424-9555. CMR Mechanical prides itself on honest, quality service!
"I have used CMR Mechanical for many years to maintain my steam boiler. They are very knowledgeable and, at my request, have helped me understand how to maintain it. Whenever I have had a problem they responded promptly. I never feel as if they are pushing me to spend extra money. On the contrary, have helped me figure out how not to have emergency calls in the winter and, in fact, my need to call them in the winter has gone away since we changed what to do during routine fall maintenance. I would recommend them without reservation," says Eve in Ann Arbor, Michigan.
100% Satisfaction Guaranteed
It can be troublesome to find out that a contractor you hire doesn't have your best interests in mind. We'll measure your home and survey your needs during an air conditioning repair to recommend the correct solutions to maximize your comfort. We're committed to providing you excellent service.
At CMR Mechanical, our contractors put a 100% Satisfaction Guarantee for equipment and all services in writing. It's our promise to you!
Will You See A Return on Investment?
Despite your best intentions, when you're faced with a hot, humid summer, most of us will run our air conditioner more than we planned. That's a good reason to think not just about price, but about the return on your investment. Most good quality air conditioning systems will last at least ten years, so what you pay when you run the system is at least as important as what you pay when you install it. But, as you consider how to cool your Ann Arbor home, you should also consider the cost of upkeep, maintenance and repair. Investing in a high quality system like Bryant, Honeywell, or Carrier will help ensure that your maintenance costs are reasonable and your costs of repair are as low as possible.
Avoid Costly Air Conditioning Repairs
If you regularly maintain your air conditioner on your own, or have your own technicians come out seasonally to avoid costly future air conditioning repairs, you should check the following items as we do in our $140 Clean and Check Inspection, including:
Lubricate moving parts as applicable
Check thermostat operation
Check blower and motor operation
Check temperature drop across indoor coil
Chemically clean outdoor coil
Check and clean condensate drain
Change standard air filter (filter extra)
Seasonal Clean and Checks Are Crucial!
If you're unsure about how to maintain your HVAC system, it's important that you hire an experienced technician to keep it performing well. According to Energy Star, "annual pre-season check-ups will keep your cooling system at peak performance. Have contractor perform multiple checks, including:
Checking all thermostat settings
Tightening all electrical connections
Lubricating all moving parts
Check and inspect condensate drain
Check controls of the system
Clean evaporator and condenser air conditioning coils
Check your central air conditioner's refrigerant level
Clean and adjust blower components
Check all gas (or oil) connections, gas pressure, burner combustion and heat exchanger
Inspect, clean, or change air filters"
We provide a "$140 Clean and Check Inspection" for homes throughout our service area! It's a great value, because your HVAC will receive proper care and you'll learn how well your system is working. You'll have peace of mind knowing that you're getting your money's worth.
Key Factors
Age
How old is your air conditioner unit? Typically, air conditioners can last up to 14-16 years. Even properly maintained air conditioner can fail, so if the cost to repair your existing furnace is too high, it might be worthwhile to invest in a new one.
High Energy Costs
Do you have high energy bills? Are your heating and cooling costs costing you an arm and a leg? Often, equipment can be sized to big or too small for homes, which can cause your costs to rise.
ENERGY STAR certified central air conditioners have higher seasonal energy efficiency ratio (SEER) and energy efficiency ratio (EER) ratings and use 8 percent less energy than conventional new models. Ask your serviceperson whether a SEER or EER certified unit make sense for you!
Frequent air filter changes
How often do you have to change your air filter? The recommended number of times you should be changing your air filter is four times a year! If you're changing your filter more than that, you may need to seek out a professional HVAC contractor for air conditioning repairs in Ann Arbor.
Odors
Do you smell a foul odor coming through your vents at home? If the smell is musty, then there could be mold in your system. If you're an allergy sufferer, inhaling mold though your vents can make your allergies even worse. Get your duct work cleaned as soon as possible.
Unusual sounds
Do you hear a crash, boom, or bang coming from your air conditioner in the middle of the night? Do the sounds keep you up at night? Don't lose sleep over your air conditioner instead, have an HVAC contractor in your area take a look.
Low air flow
Is your air conditioner failing to blow air at a normal rate? If this is indeed the case, then you could have a dirty blower wheel, a broken blower or a worn fan belt. It could be a costly repair if the problem is left alone.
Do any of these things sound familiar to you? If your heating and cooling system whistles, clunks, or makes banging noises, it's probably not making music for no reason, it may be trying to tell you something. Don't wait until the last possible second to call and get your system fixed when it's on the brink. We're here to help you avoid those types of disasters!