"Why is my furnace leaking?"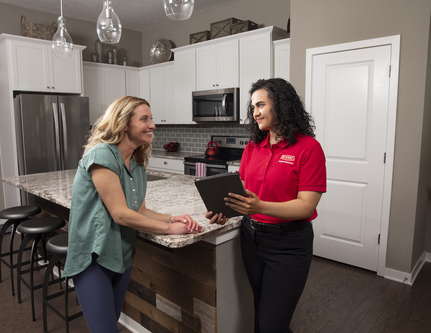 Winter is coming. Have you checked your furnace recently to prepare for the colder months? Did you find your furnace leaking water? What could be causing this problem?
You're not alone. Leaking furnaces are a common problem for people to deal with. It's important to check your furnace regularly and understand the common issues that can result in water leakage.
Many leaks are caused by condensation within the furnace. Like "sweat" on the outside of a cold glass of water, cooled exhaust gas can cause water to collect inside your furnace. If a pipe is incorrectly sized, water can leak out into your basement and cause serious damage, especially if you store items on the ground near your furnace.
Other causes of a condensation leak include:
Clogged tubing
Clogged drain
Broken condensate line
Issues with condensate pump
Types of Furnaces & Condensation Problems
There are two major types of furnaces: high-efficiency and standard-efficiency furnaces. High efficiency furnaces have cool exhaust and are supposed to create water, but if the pipes that carry this water away are broken, you can experience a leak. Standard efficiency furnaces have hot exhaust and don't normally produce condensation, so if you have a leak it can mean the exhaust gases are being trapped inside by a broken or incorrectly sized pipe. High efficiency furnaces will have plastic PVC pipes, while standard efficiency furnaces have metal pipes.
Other, more complex, problems could come up with the secondary heat exchanger, the internal drain, and the humidifier. You'll need a qualified professional to work on your furnace, but keep these terms in mind.
Leaks can cause huge issues, including damaging parts, flooring and walls, and lead to mold growth. A reputable heating and cooling technician should be able to quickly diagnose the source of the leak and offer solutions to your water furnace problem.
Frequently Asked Questions:
Do you need a certified contractor to fix your leaky furnace?
Not necessarily, but it is advised if you feel uneasy about making the repair yourself. A certified HVAC contractor will ensure your system is running in tip-top shape!
How do you know if your system needs regular maintenance?
Furnace manufacturers all recommend annual inspections and maintenance by a qualified heating and cooling contractor. You may want to read warranties very carefully as some may have language saying that damage caused by improper maintenance is not covered.
How do I know if I'm hiring a professional HVAC contractor?
The first thing you should do is ask your friends for recommended contractors that they have used in the past. If all else fails, use Google and review contractors in your area. See what people are saying and get at least three quotes before you move forward with a particular contractor.
100% Satisfaction Guaranteed Heating in Ann Arbor
CMR Mechanical is qualified to work on your furnace, no matter what kind it may be. Read the reviews on our website and learn about how we can help you with your heating in Ann Arbor. Whether your furnace is new or old, whether you need routine maintenance or emergency repairs, we'll work with you to make things right.
We'll measure your home and survey your needs to recommend the correct heating system to maximize your comfort. We're committed to providing you excellent service. In fact, we put our 100% Satisfaction Guarantee for equipment and all services in writing!
CMR Mechanical – Your Experts for Heating in Ann Arbor
If you'd like to add value to your home, we're your guys for heating in Ann Arbor and the surrounding areas! We service and repair residential, commercial and industrial equipment; while specializing in all types of heating and cooling, furnaces, radiant floor heat, refrigeration, water heaters, boilers, and back-up power generators, as well as many other products and services.
Contact us at info@cmrmechanical.com or call (734) 424-9555. We pride ourselves on honest, quality service!