We Are Open For Business
7 Step Guide to Hiring the Perfect Contractor for Heating Your Ann Arbor Home
What's important to you in hiring a heating contractor?

Do you only hire a company if someone recommends it to you?

What are your greatest fears in hiring a heating and cooling company?

Hiring the perfect contractor for heating your Ann Arbor home may seem like a daunting task, but if you know what to look for it should come easy! We understand how hard it can be to put your trust in a contractor, and that's why we offer a 100% satisfaction guarantee!
Research is important! You don't want to spend a fortune on a furnace that isn't good quality, then wind up buying a new one in 5 years. The best technicians will be knowledgeable and experienced, and will guarantee your comfort in writing.

Make sure when you're looking into the perfect contractor for heating your Ann Arbor home that you remember our step by step guide: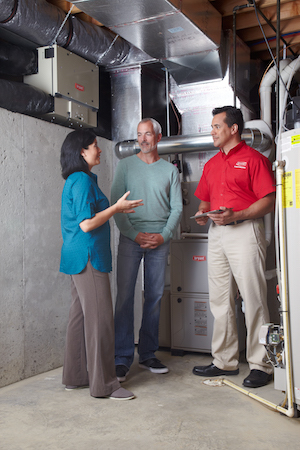 Plan Ahead For Replacing Your Furnace
The absolute worst time for you to replace your furnace is in the dead of winter when it's below zero, and your old furnace just broke down. You don't want your house and family freezing cold for the day it takes to do the replacement! That's why you should plan ahead and replace your old inefficient furnace when the weather's warm. Our expert furnaces installers based in Ann Arbor are ready to install your furnace now anywhere in the Ann Arbor, Dexter or Chelsea area.
Call us today at 734-424-9555 to schedule an appointment. We'll measure your home and survey your needs for heating your Ann Arbor home to recommend the correct solutions to maximize your comfort!

Savings on Heating Your Ann Arbor Home with an Efficient Furnace
Today's highly efficient furnaces have an efficiency rate of up to 97%, which means that for every dollar you spend on fuel costs, 97% turns into heat for your home. Compared to older, less efficient furnaces that are often only 65% efficient, installing a 97% efficient furnace could return 32% of the cost of fuel BACK TO YOU, giving you that much more heat for you and your family!
Knowledgeable Contractors for Heating Your Ann Arbor Home
At CMR Mechanical, we provide ongoing training for our service technicians. Our techs are factory trained and qualified on virtually all brands of heating and cooling equipment and indoor air quality. We'll never try to sell you a system or upgrade that you don't need. We'll explain the problem if one exists, and help you understand how it should be repaired.
In addition, if your furnace doesn't need to be repaired but you want to upgrade, we can make those recommendations as well. If you're looking for ways to increase your energy efficiency, reduce fuel consumption, or help your home stay comfortable all year round, we can help!

Step 7: Did the contractor do an in-home evaluation?
According to Energy Star, "The contractor should spend significant time inspecting your current system and home to assess your needs. A bigger system isn't always better; a contractor should size the heating and cooling system based on the size of your house, level of insulation, and windows."
A good contractor will not size your equipment solely on square footage, nor will they assume your existing equipment was sized properly. When you hire a heating and cooling company to install your HVAC system, make sure they correctly size your home for proper efficiency. If your HVAC unit is the wrong capacity, problems can result, including:
Oversized HVAC
• Higher installation costs
• More breakdowns
• Large temperature swings
• Possible mold growth
• Shorter life

Undersized HVAC
• Constantly running
• High energy costs
• Shorter Life
• Reduced comfort
"A good contractor will inspect your duct system (if applicable) for air leaks and insulation and measure airflow to make sure it meets manufacturer's specifications," according to Energy Star. At CMR Mechanical, we inspect your system for heating your Ann Arbor home from top to bottom, leaving no stone unturned. We perform a thorough analysis of your system and report our exact findings to you and let you know what's needed.

Step 6: Do they offer written, itemized estimates?
According to Energy Star, "when comparing contractors' proposals (bids), be sure to compare cost, energy efficiency and warranties. A lowest price may not be the best deal if it's not the most efficient because your energy costs will be higher." You want to ensure you're getting a quality system that will save you money and time with maintenance and upkeep charges in the long run. Don't get misled!
Step 5: Do they offer a satisfaction guarantee?
Written agreements are important so you don't get misled. It can be troublesome to find out that a contractor you hire doesn't have your best interests in mind. Imagine how great it would be to have a worry-free experience!
At CMR Mechanical, our contractors put a 100% Satisfaction Guarantee for equipment and all services in writing. It's our promise to you!

Step 4: Are they knowledgeable on the topic of all things heating and cooling?
We offer our customers peace of mind. All our technicians are highly trained professionals who continue their education through ongoing training, so they stay up to date to ensure you receive the best service available.
We're also a Factory Authorized Bryant Dealer! According to Bryant, "Factory Authorized Dealers stand with the unparalleled performance he/she offers—from reliable service to technical know-how. When choosing a dealer, look for the Bryant Factory Authorized Dealer symbol, which means your dealer has met our highest standards for superior skills, service, and a promise of 100% satisfaction guaranteed."
So you'll be in great hands at CMR Mechanical!
Step 3: Are warranties available?
If you can't afford the cost of a new heating and cooling system, there are sometimes rebates available. Go to DTEEnergy.com to learn about all the potential savings for certain units. Price them out with multiple bids to ensure you're getting the best deal possible.
Step 2: Research!
Energy Star recommends finding out about license and insurance requirements for contractors in your state. And before you call a contractor for heating your Ann Arbor home, know the model of your current system and its maintenance history. Also, make note of any uncomfortable rooms in your home. This will help potential contractors better understand your heating needs. The more we know about your service history, the better we can serve you and recommend a logical resolution.
Step 1: Check Reviews!
Do they have good reviews on Google, Yelp, Facebook or other? If they don't, you may need to seriously re-evaluate your options. The cheapest price isn't necessarily the best deal if you're getting a contractor who is less than great at what he or she does. Installing new heating and cooling equipment is an investment and we want you to get the most value out of your money!
At CMR Mechanical, we're committed to providing the highest level of service and installation in the industry! If you ever need your heating and cooling units inspected, we hope you consider us your "go-to-guys."
We love it when our customers say things like…

"Other companies came out two or three times, but couldn't fix the problem. You guys got it right the first time!"

"CMR installed a new a/c system in our home and they were top notch through the entire process. The owner and crew were direct, honest, knowledgeable, on time and clean. The system works great and we are very happy customers."

"CMR employees were professional, prompt, clean, conscientious, friendly and a pleasure to work with. I recommend them highly!"
"CMR mechanical is fantastic. I consulted with Andy about getting a chimney liner installed at my home. Andy went over all the details and quoted me a very fair price. The crew showed up on time and did excellent work. What more could you ask for? I would recommend these guys to anyone."
Our customers put smiles on our faces! We love what we do because the people we help are worth the extra effort!
If you work with us and aren't happy for any reason, please contact us. We'll make sure that you're completely satisfied. Heating your Ann Arbor home is what we do best, and we're here to make YOU happy!